When rock-folk legend and working-class hero Bruce Springsteen announced an eight-week engagement performing intimate shows of music and storytelling at Broadway's Walter Kerr Theatre this summer, fans knew tickets would be difficult to purchase. Now a three-times extended show that will run into June 2018, Springsteen on Broadway has become the new Hamilton.
Tickets went on sale this morning for the third (and possibly last) extension to The Boss' Broadway run through Ticketmaster Verified Fan, and as expected, mayhem ensued.
Each of the previously scheduled sixteen weeks of Springsteen also went on sale through the Verified Fan program, which Ticketmaster says was designed to combat bot software and scalpers and keep tickets off the secondary market. The program requires would-be ticket buyers to register weeks ahead of onsale for a chance to be "verified" and receive a unique code that allows the opportunity, but not the guarantee, to purchase tickets. There was so much participation in the original onsale that additional registration for the extension was not offered.

Whether or not the program has been successful in preventing resale has been a topic of debate since the program's inception; in an interview with KindredCast podcast this fall, Live Nation (Ticketmaster's parent company) CEO Michael Rapino said that Verified Fan has seen an estimated 90 percent success rate in "blocking tickets from being purchased by bots and brokers while getting the good seats into the hands of fans".
The repercussions of Verified Fan, however, has been an increase in face value pricing – an attempt to close the gap of what brokers are able to charge for resale – but also an increase in secondary market pricing, because less supply equals higher demand.
There's also, as many fans point out, issues with the technical process of the program – from faulty codes to lengthy standby times to not receiving a code at all. In emails made public by their lawsuit with Songkick, it was admitted by a Ticketmaster executive that "there is no algorithm to determine true fans…that's crowdsurge BS".
Therefore, whether or not a fan gets a code is up to chance. Given this unfortunate reality, Ticketmaster might benefit from rethinking the program's marketing strategy; the very idea that "truer" fans get "verified" and others do not has caused a good deal of hurt feelings, as expressed on Twitter.
Do you see all the "who has a code?" "who wants to sell me a code?" "there are tix on eBay" nonsense?
If this stupid system is supposed to safeguard the tix for fans, it's failing.
If you cared, you'd allow entry only to those who actually are verified.
GRRRRR.

— Susan Jeffery (@SusanSewing) December 19, 2017
Why can't every 'verified' fan have been issued with a code? Cause of resentment among certain fans isn't so much failure to obtain ticket for a limited availability show (that's life), but never having had the opportunity. Yet anger shouldn't be aimed @springsteen.

— Steve Mallia (@stevemallia71) December 19, 2017
Steve – these are my thoughts as well. I get that there are limited tickets. I'm just so frustrated I was never able to have a shot to buy tickets because of some stupid, random selection process. I'm going to miss a once-in-a-lifetime show, and I never had a chance.

— Andy Mixan (@AndyMixan) December 19, 2017
If Bruce @springsteen doesn't write a song called "Verified Fan" about the struggles of those who just can't get tickets to #SpringsteenOnBroadway no matter how hard they try, it will be a lost opportunity to sing a sad song 'bout the workin' man pic.twitter.com/xpBaXEWsTb

— Connor Ratliff 🎭 (@connorratliff) December 19, 2017
Those "verified" fans who did receive a code reported all kinds of difficulties in their user experience.
https://twitter.com/chondy1/status/943199813461598209
Just keeps spinning and spinning. Spent over 40 minutes trying for tickets, very disappointed. What's the point of signing up for a code if it doesn't work?

— Thomas (@thomasG87) December 19, 2017
OK I give up @Ticketmaster and @springsteen with your verified fan nonsense. Even with a code today I couldn't get tickets. I've been trying for years to get tickets various tours and always get skunked. No way to treat a fellow Jersey boy.

— Paul W. Gillespie (@pwgphoto) December 19, 2017
@TMfanSupport can't get thru on phone. Springsteen tixs.
have code. each time I type it in (after already logging in to my account) asks me 2 verify by logging in 2 TM again. then tells me it can't verify the account!!!
tickets are selling out. I have a code. can't buy them. HELP

— Bachscore (@masapequaparkng) December 19, 2017
And for many more who could get through, they were sorely disappointed by the ticket prices.
Finally got a @springsteen code and cheapest ticket available is $500. Um, nope.

— John Vollaro (@supashoppa) December 19, 2017
Finally get a text that I can buy Springsteen on Broadway tickets. Searched through 4 dates to see if there any even slightly affordable tickets. Nope. Springsteen has always cared about being accessible for the average fan. $600+ ticket prices aren't that.

— Brian Rosenwald (@brianros1) December 19, 2017
https://twitter.com/clee0846/status/943184523684188161
Verified Fan has caused higher prices, a complicated buying process, and a lottery system that leaves some fans without the chance to even try. Even if the program has indeed cut down on the amount of inventory that ends up on the secondary market, can it still be called a success?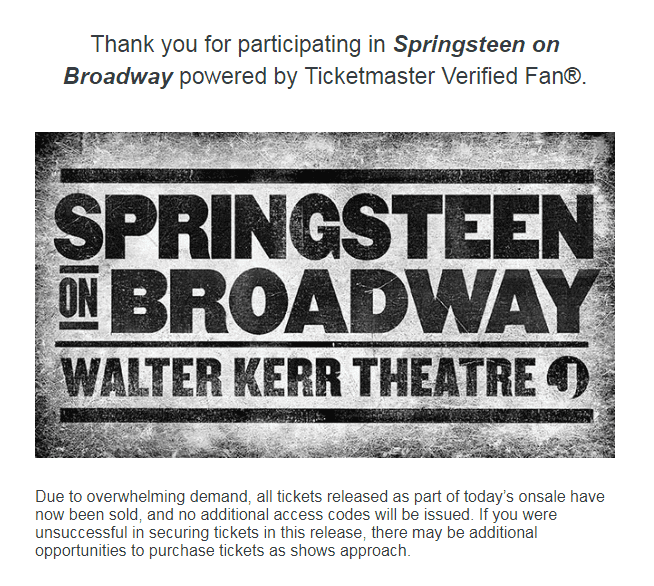 Last Updated on December 20, 2017