Broadway actors, TV stars, and musicians have announced they will come together to hold multiple special benefit concerts for the victims of the shooting...
Broadway actors, TV stars, and musicians have announced they will come together to hold multiple special benefit concerts for the victims of the shooting that took place this past February at Marjory Stoneman Douglas High School in Parkland, Florida.
On February 14, former student Nikolas Cruz, 19, allegedly opened fire in the high school, killing 17 people and injuring others. Cruz is currently being held without bond at Broward County Jail.
The first concert, being held in honor of the victims, is "From Broadway with Love: A Benefit Concert for Parkland, USA." It is set to be held on Monday, April 16 at the BB&T Center in Sunrise, Florida.
Broadway stars Matthew Morrison of "Glee," Noah Galvin from "Dear Evan Hansen," "Kinky Boots'" Wayne Brady, Telly Leung  from "Aladdin," Deborah Cox of "The Bodyguard," and Laura Bell Bundy from "Legally Blonde" will perform. Stars from the CW musical series "Crazy Ex-Girlfriend" will make appearances, including Rachel Bloom, Donna Lynne Champlin, Vincent Rodriguez III and Gabrielle Ruiz. Confirmed musical performers are former American Idol runner-up Justin Guarini and Kristin Maldonado of Pentatonix. Several students will sing original songs, and victim Jaime Guttenberg's dance troupe will perform to honor their friend's memory.
Money raised from this event will go toward Marjory Stoneman Douglas Victims' Fund and Shine MSD, to benefit arts advocacy in the community. 10,000 tickets have already been distributed to the staff, students and families at the school and in the community. General public tickets are now on sale.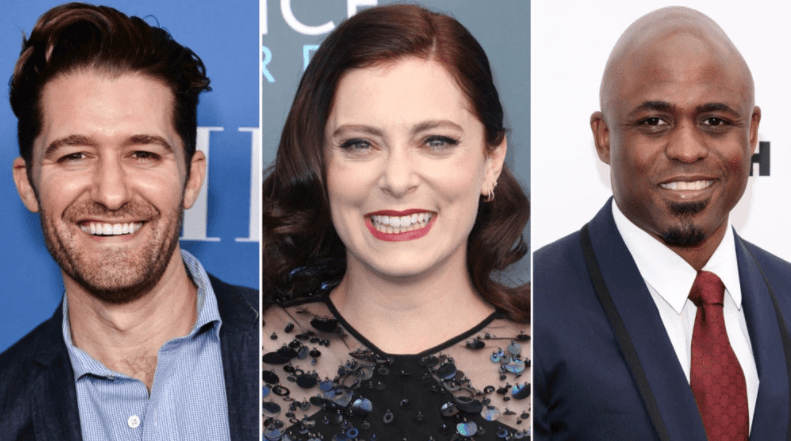 A few weeks later, AEG will present #ParklandStrong with 103.4 The Shark at the City of Pompano Beach. The benefit concert will take place on Wednesday, May 16 at 6 p.m.  at the Pompano Beach Amphitheatre. Featured artists include Florida natives New Found Glory, Chris Carrabba of Dashboard Confessional, and Yellowcard's former lead singer and guitarist, William Ryan Key. Band members from New Found Glory actually graduated from Marjory Stoneman Douglas High School, and released the following statement regarding the tragedy:
The members of New Found Glory would like to start by saying this is a statement that we wish we never had to write in the first place. Our hearts are broken, and we cannot imagine the pain the victim's families, friends, students, teachers and anyone else impacted by the recent tragedy at MSD must be feeling.  While we feel there are no words that we can say or do to fix this in any way, we wish to let you know that our hearts are heavy with the pain that this event has caused to so many. We want to stress that the most important part of the grieving process is to focus on the healing of those affected by this senseless act. As some of you may or may not know, half of our band went to MSD so it is important to us that we do as much as we possibly can to help the school and families of the victims. They deserve our love, support, and help, and we will help in any way we can.
New Found Glory released the album Makes Me Sick last year, Key will be debuting his first solo EP, and Carrabba will play an intimate acoustic set from Dashboard Confessional's 2018 record, Crooked Shadows.
"Pompano Beach unites with Parkland to share in your grief and help in your healing," Mark Beaudreau, Pompano Beach Recreations Programs Administrator, told 104.3 The Shark. "As neighbors, we are here for the long journey. This event is just a start. We hope that we can come together to support the victim's families and friends and be an agent of change for the betterment of our children."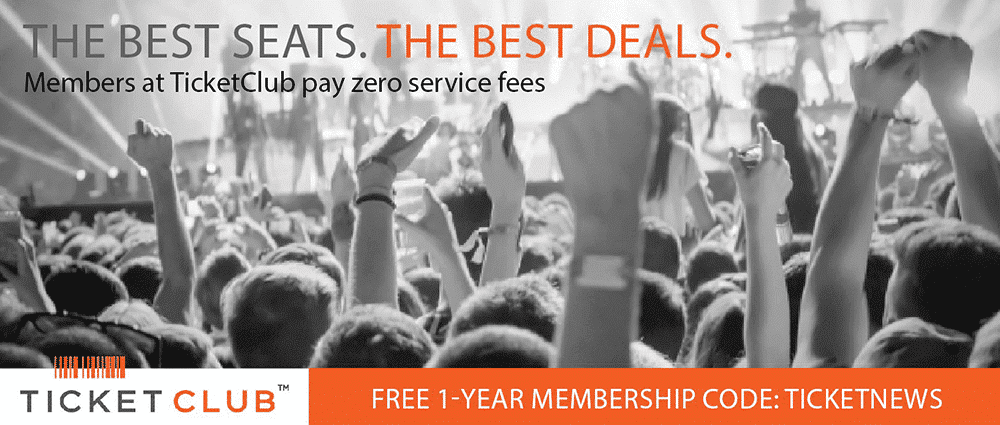 All proceeds, which includes ticket sales, concessions, merchandise, and sponsorships will be donated to the Broward Education Foundation Stoneman Douglas Fund, according to The Shark. Tickets are available now.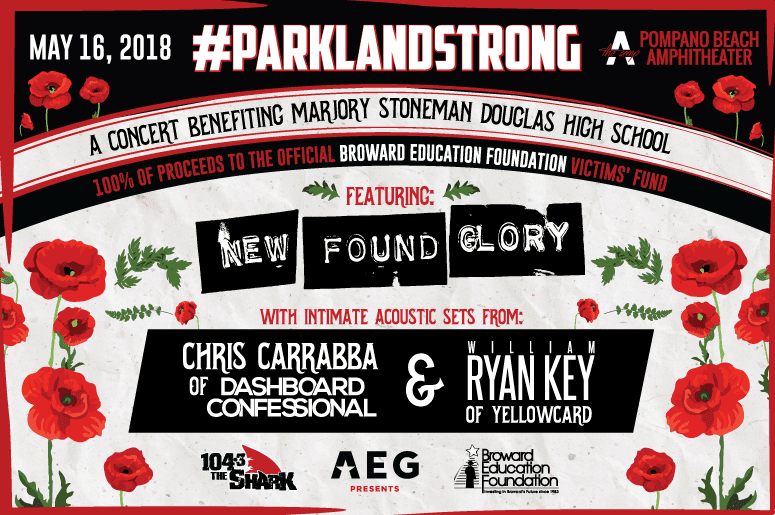 Last Updated on April 5, 2018 by Sean Burns