The New Zealand indie-pop star Lorde is currently performing on her Melodrama World Tour, and although critics are calling the tour a "flop" with...
The New Zealand indie-pop star Lorde is currently performing on her Melodrama World Tour, and although critics are calling the tour a "flop" with many stadium dates only half-full, she's still putting on an unforgettable show according to many.
Lorde set out on her U.S. leg of the tour March 1 in Milwaukee, Wisconsin. That night, only about 6,000 people showed up to the 18,000-capacity arena, a box-office employee said. According to The Guardian, concert promoter AEG felt this trend would continue throughout the tour, and decided to close off the upper tiers during her shows in Sacramento, Oakland, Kansas, Seattle and Denver, offering fans free floor upgrades. Additionally, Ticketmaster offered a discount code, reducing premium seat prices from $99 (£71) to $39 (£28).
These low-stadium sales likely stem from multiple factors. Her second studio album, Melodrama, was released last year, and unlike her hit 2013 debut Heroine, Melodrama didn't receive the same hype. Fans believe that this could be due to minimal press, or perhaps the choice in singles from the record. "Green Light" and "Liability" were released, rather than the catchy, fan-favorite tune, "Supercut." During the Grammy's this past January, Lorde was the only best-album nominee who wasn't invited to perform at the show, a snub at the star's live performance. She later tweeted, "IF YOU'RE DEBATING WHETHER OR NOT I CAN MURDER A STAGE … COME SEE IT FOR URSELF."
Last year, Lorde faced some harsh criticism for cancelling a show in Tel Aviv this June due to the Boycott, Divestment and Sanctions (BDS) movement over Israel's human rights record. The singer joined other artists who boycotted Israel for their treatment to Palestinians. She made a statement that the cancellation was "the right decision at this time." BDS activists supported and thanked her, while conservatives like Roseanne Barr called her a "bigot" and one Florida politician is attempting to see shows by her in his state cancelled.
"Lorde, I expect you to be a pure heroine, like the title of your first album, a pure culture hero, free of any external – and if I may add, delusional – political considerations," Israeli Culture Minister, Miri Regev, said in a statement.
Nonetheless, after her shows, Lorde's fans took to Twitter, expressing her surreal performance.

Lorde's voice is not only unique, but her lyrics and dance style are extremely different from other mainstream artists.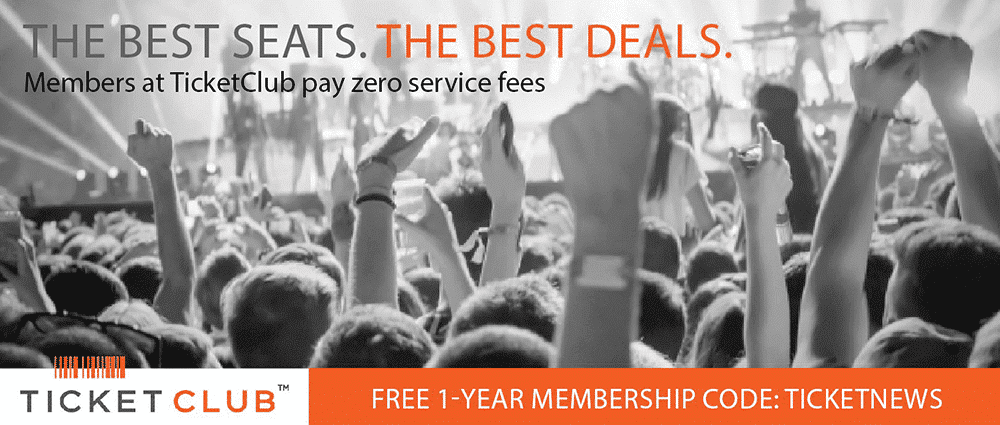 "We love a queen that appreciates contemporary dance and doesn't give in to classic commercial tour dance styles," one fan wrote on Twitter.
Although some shows seem to be undersold, certain cities are selling well; Brooklyn's Barclays Center on April 4 and Washington D.C.'s The Anthem on April 8 are both sold out. Lorde seems to not mind what anyone thinks – something she has continued to do since the beginning of her career. She also took to Twitter, telling her fans she is "grateful always and forever that you show up for me." The tour is something so "intense" for her, and she describes how she will continue making it an unforgettable experience.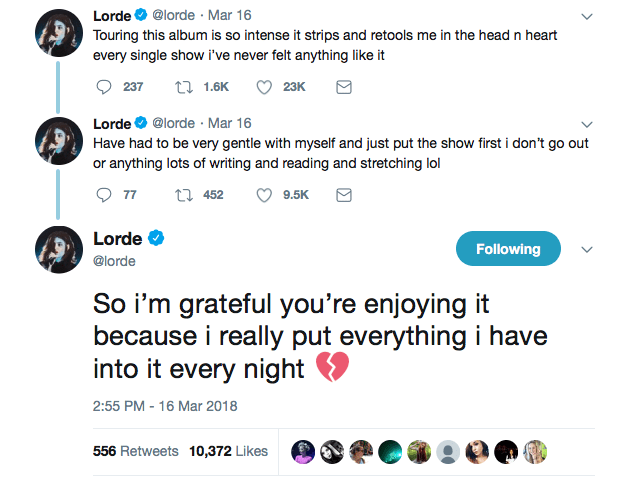 Lorde is scheduled to perform tonight, April 2 in Philadelphia, Pennsylvania, and continues down the east coast before starting shows in Europe on May 26.
Visit Ticket Club to find tickets to see Lorde on her Melodrama World Tour. 
Last Updated on April 3, 2018 by Sean Burns