Nathan Hubbard, who ran Ticketmaster in the four years following its merger with Live Nation before leaving to serve as Twitter VP of Commerce...
Nathan Hubbard, who ran Ticketmaster in the four years following its merger with Live Nation before leaving to serve as Twitter VP of Commerce and Media, announced a new venture in a series of tweets on Friday morning. The details were thin on what exactly the company – called Rival – will do, but it is obvious that it is an attempt to disrupt the ticketing business as currently modeled.
"We build technology for live events that makes teams and artists more money, gives fans fair access to amazing experiences, and keeps everyone safer," reads the first in a series of tweets from the newly created @rival twitter account. "We are a technology company powered by an exceptional team of engineers, product managers, and designers, bringing DNA from a broad swath of industries to solve decodes-old problems with next generation technologies. We use cloud, mobile, facial recognition, distributed commerce, visualization technologies and more to create magical consumer and enterprise experiences for teams, venues, artists, and fans."
Whatever that means in real world terms, it is apparent that Hubbard has brought some big money to the table before making today's announcement. More than $30 million in venture capital has been raised over the last 18 months to get the startup, based on Los Angeles, off the ground, according to recode.net.
Rival's backers include Andreessen Horowitz, Upfront Ventures and a long list of big Silicon Valley names that include former Twitter CEO Dick Costolo, Slack product chief April Underwood and Stripe co-founders Patrick and John Collison. Upfront's Greg Bettinelli and Andreessen Horowitz's Alex Rampell sit on Rival's board.

Perhaps more importantly, the investor list also includes undisclosed teams from each major U.S. sports league as well as soccer's English Premier league, which you would imagine will be some of its first partners.
According to Hubbard's tweets, the platform will works "by digitizing the ecosystem and tying access to biometric identity (through our facial recognition platform)," and gives "teams and artists control over each individual seat in real time: its price, where and when it's sold, who gets access, what else it comes with, and more."
In the same tweetstorm, Hubbard claimed his new company isn't intended to be considered as a direct competitor to his former employer. "We're highly complimentary to what they do extraordinarily well. We view them as a partner and our platform can potentially grow one part of their expansive business."
Rather, it seems, the new company will be aimed at clearing out all other players on the field save for the near-unassailable one at its core. "Many other stakeholders in the space have much more to be concerned about," he tweeted, after noting that Ticketmaster is positioned to allow third party sellers similar to how Amazon is set up.
His mention of Amazon is an interesting one – given that Amazon had made a run at entering the ticketing business in the United States, only to find that Ticketmaster was disinterested in ceding any of its nearly unassailable vertical integration in the space. When reported talks between the two corporations regarding Amazon's potential as a distribution channel for inventory stalled over what inventory Ticketmaster would allow to go through Amazon's doors and who would own customer data, the e-commerce giant opted to go dormant for the time being in the ticketing world.
Hubbard's full twitter thread is below: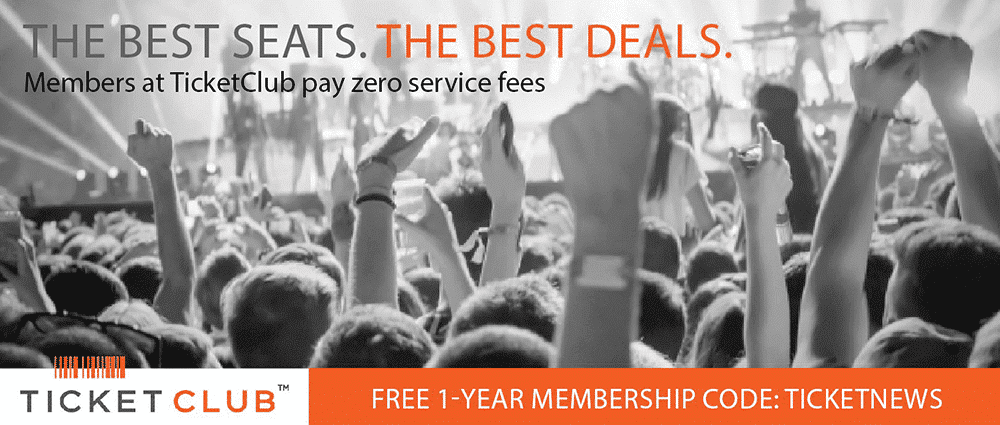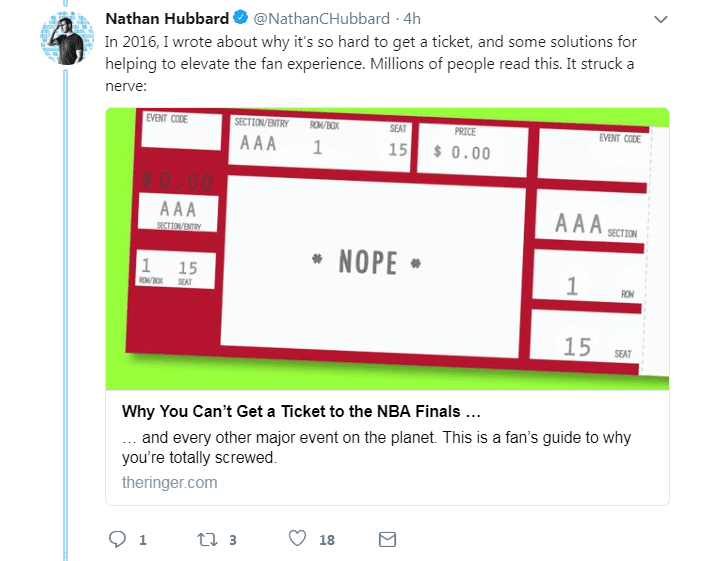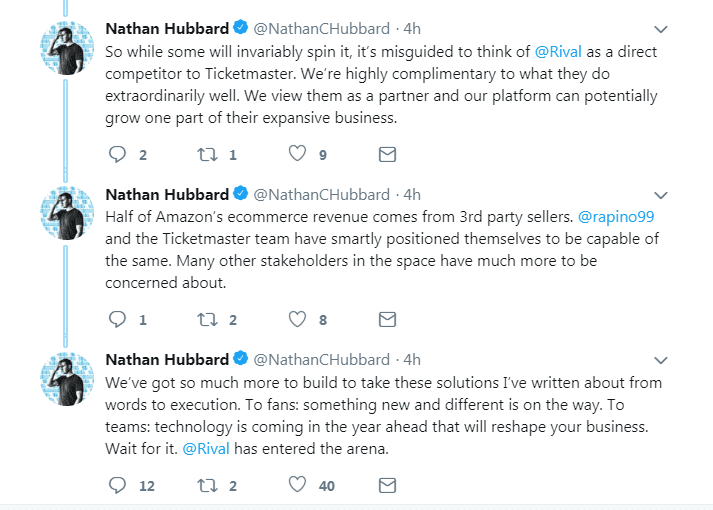 Last Updated on July 6, 2018 by Sean Burns