eBay stock (NASDAQ: EBAY) fell more than 10 percent in trading on Thursday, its worst performance in the market since an 11 percent drop in October of 2016, according to reporting by CNBC. The precipitous fall came in the wake of the company reporting sluggish growth and lowering its revenue forecast for the remainder of the year. The company also announced Wednesday that it had cut some 300 jobs from its staff in California.
StubHub played a key role in the reduction, as the secondary ticket marketplace missed quarterly expectations.
"Marketplace initiatives… are ramping slower than expected and likely shifts potential acceleration to 2019," analysts from Raymond James wrote in a note to investors. StubHub's growth "is likely to remain challenging in the near term," the firm said. The lackluster result was "due to a poor events environment."
"We expect eBay shares to revisit recent lows, as the headwinds in StubHub was an unexpected development," Credit Suisse said.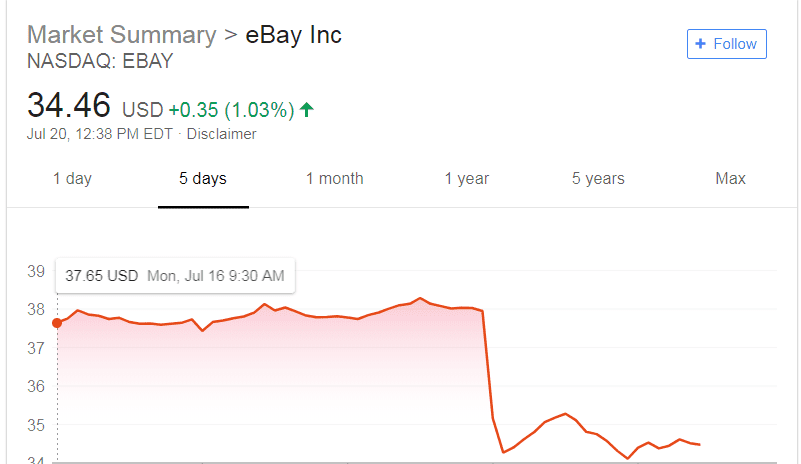 eBay stock stood at $37.95 at the close of the market Wednesday, plummeting to $35.16 at the opening of trading Thursday, then further to $34.27 by 10 a.m. It rallied back to above $35 by mid-day, only to drop in the afternoon to settle at $34.11 at the close of the day. That number is the lowest for the stock since June of 2017.
The market slide came in the wake of what the company deemed "mass layoffs" of over 300 employees in California, announced earlier on Wednesday before the earnings. According to Fortune, many of those workers were notified late June of the coming job cuts, which will be implemented by July 20.
"News of layoffs frequently leads to an increase in share prices, as investors anticipate lower costs will improve profits," Fortune's Kevin Kelleher wrote. "When reports of layoffs are followed by a stock decline, it's a particularly worrisome development all around."
It is unclear what percentage, if any, of those job cuts were made at StubHub. The company told investors in its earning call that the cost reductions would free up funds that could be spent on marketing.
Last Updated on July 20, 2018