After a poor first quarter earnings report after business hours on May 1, Eventbrite (NYSE: EB) saw share prices plummet by 30%, precipitating a trio of class action lawsuits announced on Monday afternoon. The complaints were filed by The Schall Law Firm of California, Vincent Wong, Esq. of New York, and Bronstein, Gewirtz & Grossman, LLC, also of New York. They allege that Eventbrite's leadership made false and/or misleading statements regarding its IPO in September, causing shareholders to suffer damages.
The lawsuits swiftly followed a major drop in stock prices for Eventbrite last week after its first quarter earnings call. Its quarterly report "showed widening losses, lower than expected second-quarter guidance and growth issues tied to their continued focus on integrating Ticketfly after purchasing the company in 2017," according to Billboard. After closing on May 1 at $24.15, after hours trading saw the bottom fall out for the ticketing company, which opened trading May 2 at $15.84 – its low since the IPO. Prices rebounded slightly Friday and Monday, with a closing price of $18.99 as of 4PM May 6 – a far cry, however, from its high point of $40.25.
Shares of Eventbrite had already had one large drop this spring, falling by 30% in March after missing Q4 estimates – a drop that brought stock prices back to the $23 neighborhood it started its IPO from. The new drop means the company has seen its stock fall by nearly 50% ($32.42 to $18.99) in under two months.
Per the Schall complaint, Eventbrite "made false and misleading statements to the market. Eventbrite's migration of customers from Ticketfly, which it acquired in September 2017, occurred at a slower pace than anticipated, which resulted in a longer timeline to reach completion. This negatively impacted the Company's revenue growth. Based on these facts, the Company's public statements were false and materially misleading throughout the class period. When the market learned the truth about Eventbrite, investors suffered damages."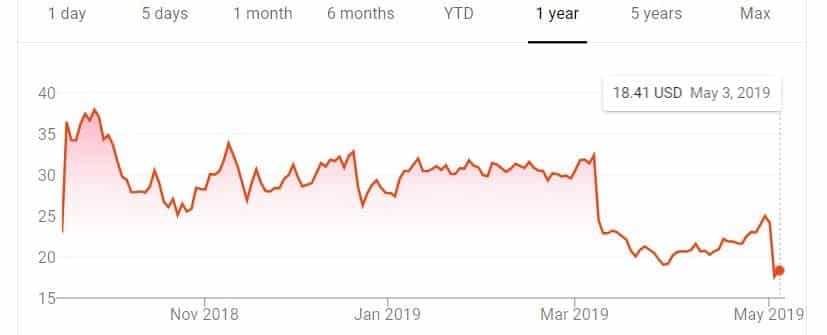 The issues, according to Billboard, stem largely from the company's move to migrate customers from Ticketfly – which it acquired for $200 million from Pandora in 2017 and which suffered a major data breach in May of last year – to the core Eventbrite platform. That breach cost the company the business of the Wynn in Las Vegas and the Burning Man festival and Chain Reaction in California. Operating losses more than tripled the same period from the prior year, rising to $10.1 million compared to $3.1 million over the same period in 2018.
Bronstein, Gewirtz & Grossman's complaint argues that Eventbrite failed to disclose "(1) that the company's migration of customers from Ticketfly to Eventbrite was progressing slower than expected; (2) that, as a result the ticketfly integration would take longer than expected; (3) that, as a result, the Company's revenue and growth would be negatively impacted; and (4) that as a result of the foregoing, Defendants' positive statements about the Company's business, operations, and prospects, were materially misleading and/or lacked a reasonable basis."
Last Updated on May 6, 2019