Tickets for June's FIFA Women's World Cup were released to fans who purchased them online on Monday. Unfortunately for some, the excitement of receiving tickets to see the best in the world play in France was followed immediately by anger – apparently many received tickets for their orders split among different rows, and even sections in some cases.
From the New York Times:
Some spouses were not placed next to their partners. Parents discovered they would be multiple rows away from their young children. Friends and families who ordered tickets in groups downloaded them to find that they would be scattered in different rows, or even in different sections.
"I was shocked," said Dawn Bauman, who told the Times that none of her four seats for the final game are next to each other. "I was thinking, no way. This can't be right."
FIFA responded to the large volume of angry responses on social media by pointing out that a note on the order page indicated that not all seats would be located next to each other. The governing body for the sport went on to explain that it would not be able to modify orders, except in the instance where fans would be separated from minors who are attending with them.
Once the volume of the complaints ramped up, FIFA indicated that the problem was isolated to "less than 1% of fans requesting tickets for the semifinal and the final."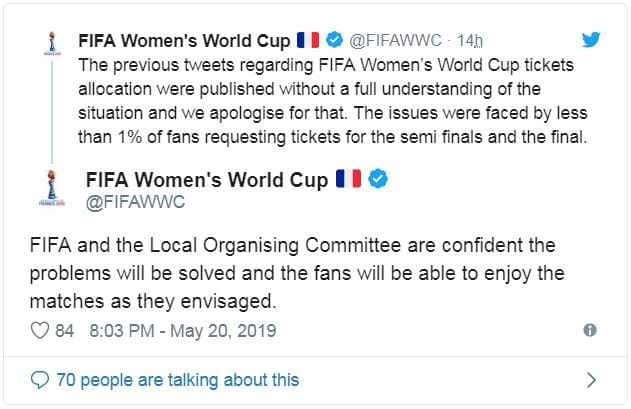 Fans have been instructed to simply arrive early on match day and attempt to swap tickets and seats with other fans – hardly a satisfying answer for people travelling thousands of miles with friends and family hoping to enjoy a world-class event with those people.
"We're in a 2-2-1 situation," says Chris McLung, who ordered tickets for the semifinals and finals to attend with his wife and three small children last year. As issued, McLung's family would have to choose which of the three children – ages six, eight, and ten, would have to sit alone in a crowded soccer stadium. "Part of this is I want to experience it with them."
French company AP2S handled the online sales for the event, but did not reply to request for comment from the Times.

USA Today's FTW! Blog detailed a number of the angry responses on social media.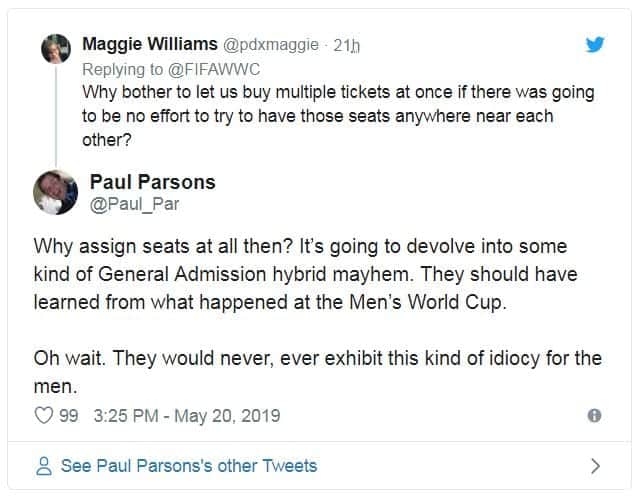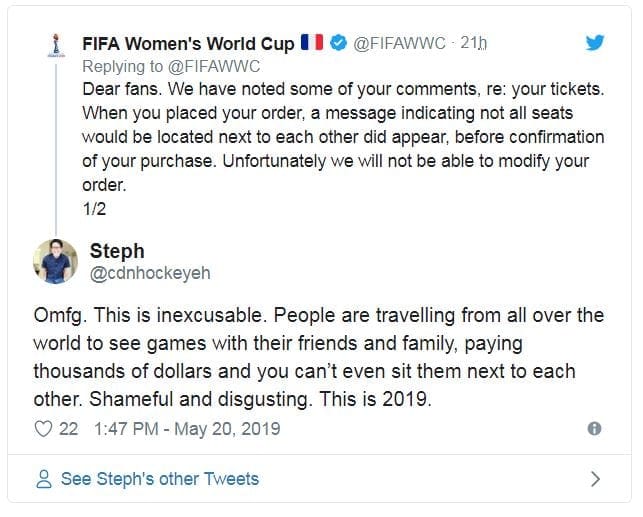 It should be noted that the ticket resale world often faces complaints of not adequately notifying fans of potential issues such as seats being non-consecutive or not for the section or row the buyer originally believed them to be. It remains to be seen whether the primary seller/event organizer will be held to a similar standard.
Commentators bemoaned the organization's response to the anger – noting that the upcoming tournament "could signal a qualitative leap forward in the development of women's football across the globe," as Suzanne Wrack writes in The Guardian.
The mood is high. Sponsorship is pouring into the game as companies sense an opportunity to enhance their images while tapping into a relatively untouched market. The quality of the product, thanks to the growing professionalisation of the game, is the best it has ever been, and is getting better.

Yet Fifa has derailed the momentum in a way that only Fifa could. There are some genuinely good people working hard to grow the women's game within the world governing body. And I feel sorry for them. They too have undoubtedly been let down by this mess. But this ridiculous episode shows us the nature of the beast; that all the good will in the world can do only so much in an organisation where fans seem to be second best to finance.
Photo: Le Parc Olympique Lyonnais avant Lyon via user Noixdecoco99 on Wikimedia Commons
Last Updated on May 21, 2019 by Sean Burns