Jimmy Eat World and Third Eye Blind were slated to perform at Huntington Bank Pavilion last night in Chicago, but due to a bad storm, attendees had to evacuate the scene, causing some to miss the show when the venue opened later in the night.
The evacuation begun at 6:45 p.m. ahead of the 8 p.m. show. Some fans waited out the storm at the Museum Campus' north garage while waiting for updates from Live Nation Chicago. Just before 9 p.m., Live Nation Chicago tweeted that the gates were now open and the concert was back on. Jimmy Eat World was rescheduled to 9:15 p.m., followed by Third Eye Blind at 10:15. Rather than the venue closing at 11 p.m., the close time was extended to 11:30 p.m.
However, many fans would have preferred the show to be rescheduled and are asking for refunds since sets were cut short. Once the gates were open again, fans were reportedly able to enter through one entrance, taking over an hour for some people to get through. People claimed they missed Jimmy Eat World and the opening band Ra Ra Riot didn't get to take the stage.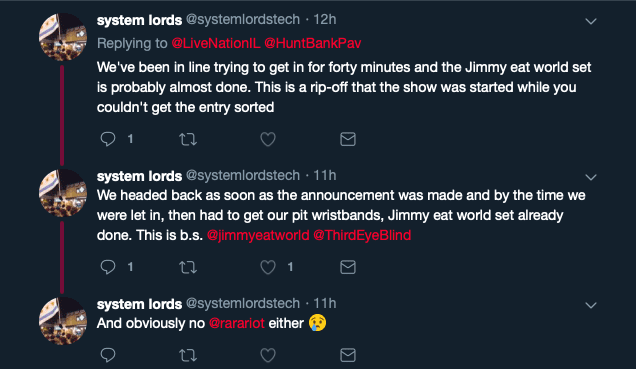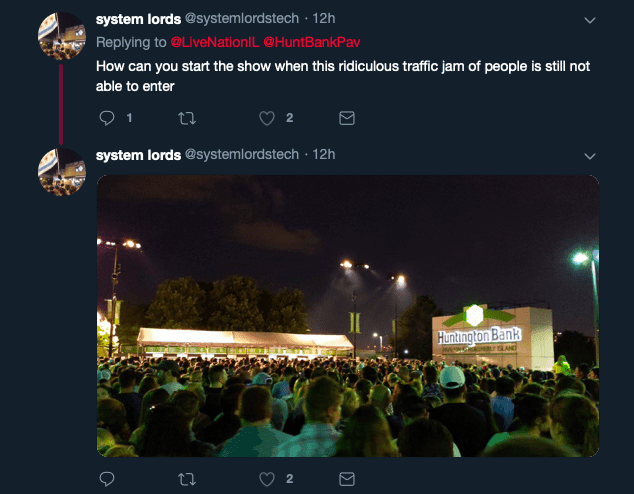 Live Nation did not issue a statement regarding refunds.
Currently, Jimmy Eat World and Third Eye Blind are on the Summer Gods 2019 Tour. They are slated to stop in Indianapolis and Cleveland next, followed by shows throughout July in cities like Boston, Scranton, Holmdel, Philadelphia, Charlotte, and Houston before wrapping-up in Irvine, California early August. Grab tickets to the show via Ticket Club.
Last Updated on June 28, 2019 by Olivia Perreault