A Florida man has filed a class-action lawsuit against Madonna and Live Nation after a Miami Beach concert saw its start time pushed back...
A Florida man has filed a class-action lawsuit against Madonna and Live Nation after a Miami Beach concert saw its start time pushed back from 8:30 to 10:30 PM – one of many such instances of tardiness on her current Madame X tour.
The suit, filed on November 4th, alleges that the change to such a late start caused plaintiff Nate Hollander and others to opt against attending, but is also preventing them from being able to recover the cost paid for the tickets after the promoter refused to provide refunds despite the time change.
According to the complaint, Hollander purchased three tickets for the December 17, 2019 stop on the tour at the Fillmore Miami Beach venue, totaling $1,024.95. The singer's current tour features performances at smaller venues, but at substantially higher prices than prior tours – the low price for a "standard ticket" currently available for the performance is $261 plus fees. "Official Platinum" and VIP tickets run anywhere from $430 (and fees) to just shy of $1,000 from Live Nation.
"Ticketholders had to work and go to school the next day, which prevented them from attending a concert that would end at around 1:00 a.m.," the suit claims. "Hollander attempted, without success, to obtain a refund for the three tickers purchased for the Madonna concert.
"Due to the change in the start times … all tickets purchased by Hollander and all class members suffered an extreme loss in value, making it impossible for Hollander and all class members to recover the amount paid for said tickets by reselling them."
Hollander is suing for breach of contract and negligent misrepresentation. He claims that the artist and her promoters should have taken into account her predilection for pushing start times well past the scheduled hour in its initial promotion of the event.
Madonna and Live Nation have yet to issue comment on the litigation, but the singer posted a video to Twitter from a Las Vegas show of her telling the crowd "There's something that you all need to understand… And that is that a queen is never late."
F. A.C.T.S. ? ……………….. #madamextheatre #thecolosseum pic.twitter.com/QBV99f1Y3I

— Madonna (@Madonna) November 9, 2019
Some fans expressed their displeasure at her seemingly cavalier attitude at their anger – she reportedly faced actual vocal boos from some crowd members at a recent Las Vegas performance where she reportedly hit the stage after midnight for a scheduled 10:30 PM start. The tour itself has faced some negative press, after a number of dates were postponed from their initial scheduled day for various reasons, while rumors of sluggish sales dogged the singer.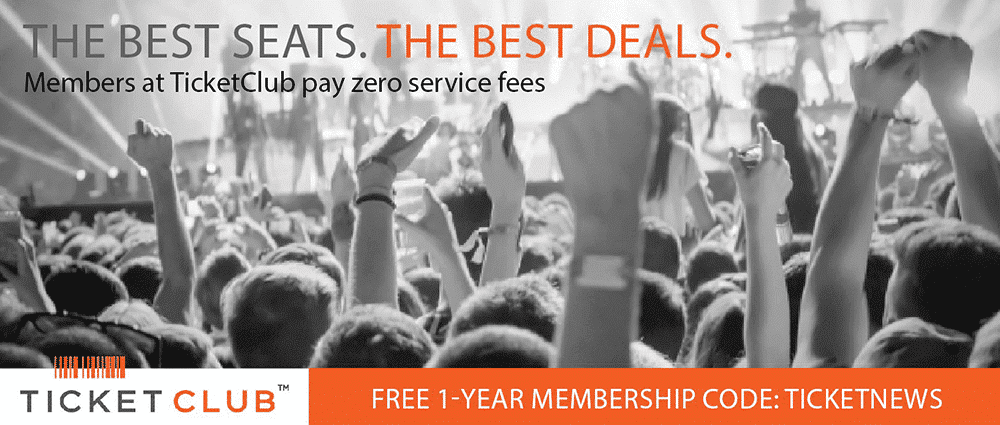 (screenshots below via Mashable)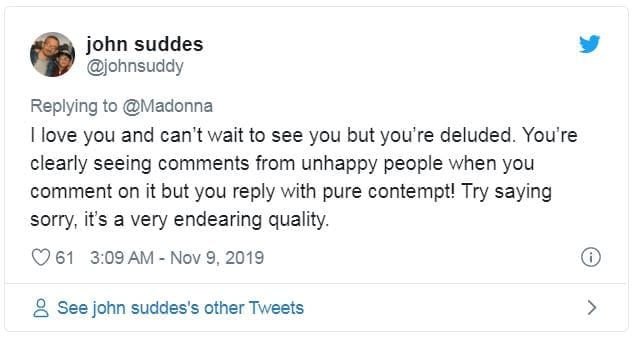 The fate of the lawsuit will likely hinge on whether or not the court entertains the notion that tickets are the property of those who purchase them. Generally, venues and promoters have been successful in their painting of tickets as a revocable license – meaning that consumers aren't entitled to a thing beyond the right to enter a show with the ticket they bought – and that right can be revoked more or less at any time.
But it will remain to be seen how Madonna fans will react if she continues showing up hours late for performances that many have paid many hundreds of dollars to attend.
Madonna's Madame X tour continues with stops in Los Angeles, Boston, Philadelphia, and Miami Beach prior to its shifting to European stops in 2020.
Last Updated on November 11, 2019 by Dave Clark