The city of Glendale, Arizona announced it will (temporarily) change its name as the Taylor Swift Eras Tour kicks off at State Farm Stadium....

The city of Glendale, Arizona announced it will (temporarily) change its name as the Taylor Swift Eras Tour kicks off at State Farm Stadium. The performances at the stadium, scheduled for March 17 and 18, are the first on Swift's massive tour, which will run throughout the year at stadiums across North America.
"There is no need to calm down, we're fearless and doing something highly unusual to celebrate the fact that Taylor's concerts start right here!," reads a statement from the city laden with Swift song titles, according to Fox 10 Phoenix. "We know all too well that she's one of the most influential artists of her generation and we are writing our own love story for her and greeting every Swiftie in style!"
It is unclear what name the city will take as part of the change, which is expected to be detailed with an announcement on Monday during the final lead-up to the concert.
Swift's Eras Tour has been a lightning rod for headlines since it was announced last year, bringing the globally popular singer and songwriter out for a full stadium run for the first time since the Reputation Tour throughout 2018. Massive errors during the initial sales process caused major controversy for Ticketmaster, including a rebuke from the singer herself after fans complained of the experience.
"There are a multitude of reasons why people had such a hard time trying to get tickets and I'm trying to figure out how this situation can be improved moving forward," she said at the time. "I'm not going to make excuses for anyone because we asked them, multiple times, if they could handle this kind of demand and we were assured they could."
The fallout has continued to this day for the company, as lawmakers continue to put pressure on it, including a Department of Justice inquiry into its business practices.
Even now, consumers looking to purchase tickets are walled off from the primary market for Swift tour dates – event promoters have used the Verified Fan system from Ticketmaster to exert strict control on the ability to purchase tickets. While the event has been "sold out" officially since before the (cancelled) general sale, many rounds of held-back tickets have since been dripped onto the market, offered directly to consumers who had already pre-registered for tickets. Instead, consumers have largely been forced to secure tickets through purchase on the secondary ticket market, which has plenty of tickets available for all events, including the launches next week in Arizona.
It remains to be seen whether or not there will be a frenzy of tickets released at the last minute, such as occurred in multiple venues on the Reputation Tour. Currently resale prices for the Arizona concerts aren't plunging yet – but that may change in coming days if more held-back tickets are released. The "get-in" price for tickets to the the Friday, March 17 Taylor Swift tour opener on Ticket Club is $167 for members, with floor seats available for as low as $361. With multiple shows in most markets, including several with three consecutive nights, there exists a very real possibility that there is far more ticket inventory out there than demand, but we'll have to see as shows arrive.
Taylor Swift Ticket Links
Taylor Swift tickets at MEGASeats.com | 10% Off Using Code TICKETNEWS
Taylor Swift tickets at Scorebig
Taylor Swift tickets at SeatGeek
Taylor Swift tickets at StubHub
Taylor Swift tickets at Ticket Club | Free Membership Offer use code TICKETNEWS
Taylor Swift tickets at Vivid Seats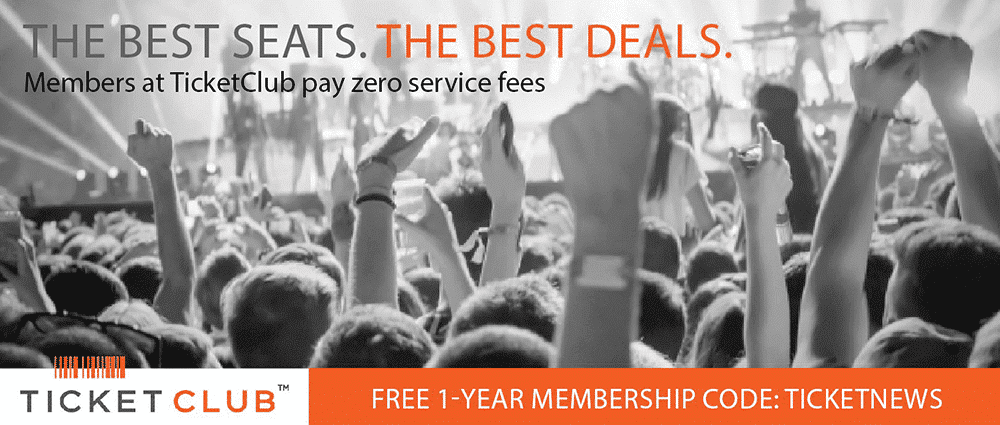 Taylor Swift The Eras Tour Dates
Friday, March 17 – Glendale, AZ | State Farm Stadium !&
Saturday, March 18 – Glendale, AZ | State Farm Stadium !&
Friday, March 24 – Las Vegas, NV | Allegiant Stadium %&
Saturday, March 25 – Las Vegas, NV | Allegiant Stadium %&
Friday, March 31 – Arlington, TX | AT&T Stadium %+
Saturday, April 1 – Arlington, TX | AT&T Stadium %+
Sunday, April 2 – Arlington, TX | AT&T Stadium %+
Thursday, April 13 – Tampa, FL | Raymond James Stadium %+
Friday, April 14 – Tampa, FL | Raymond James Stadium %+
Saturday, April 15 – Tampa, FL | Raymond James Stadium %+
Friday, April 21 – Houston, TX | NRG Stadium %+
Saturday, April 22 – Houston, TX | NRG Stadium %+
Sunday, April 23 – Houston, TX | NRG Stadium %+
Friday, April 28 – Atlanta, GA | Mercedes-Benz Stadium %+
Saturday, April 29 – Atlanta, GA | Mercedes-Benz Stadium %+
Sunday, April 30 – Atlanta, GA | Mercedes-Benz Stadium %+
Friday, May 5 – Nashville, TN | Nissan Stadium $&
Saturday, May 6 – Nashville, TN | Nissan Stadium $&
Sunday, May 7 – Nashville, TN | Nissan Stadium $&
Friday, May 12 – Philadelphia, PA | Lincoln Financial Field $&
Saturday, May 13 – Philadelphia, PA | Lincoln Financial Field $&
Sunday, May 14 – Philadelphia, PA | Lincoln Financial Field $&
Friday, May 19 – Foxborough, MA | Gillette Stadium $&
Saturday, May 20 – Foxborough, MA | Gillette Stadium $&
Sunday, May 21 – Foxborough, MA | Gillette Stadium $&
Friday, May 26 – E. Rutherford, NJ | MetLife Stadium $&
Saturday, May 27 – E. Rutherford, NJ | MetLife Stadium $+
Sunday, May 28 – E. Rutherford, NJ | MetLife Stadium $+
Friday, June 2 – Chicago, IL | Soldier Field #?
Saturday, June 3 – Chicago, IL | Soldier Field #?
Sunday, June 4 – Chicago, IL | Soldier Field #?
Friday, June 9 – Detroit, MI | Ford Field #?
Saturday, June 10 – Detroit, MI | Ford Field #?
Friday, June 16 – Pittsburgh, PA | Acrisure Stadium #?
Saturday, June 17 – Pittsburgh, PA | Acrisure Stadium #?
Friday, June 23 – Minneapolis, MN | U.S. Bank Stadium #?
Saturday, June 24 – Minneapolis, MN | U.S. Bank Stadium #?
Friday, June 30 – Cincinnati, OH | Paycor Stadium ^+
Saturday, July 1 – Cincinnati, OH | Paycor Stadium ^+
Friday, July 7 – Kansas City, MO | Arrowhead Stadium ^+
Saturday, July 8 – Kansas City, MO | Arrowhead Stadium ^+
Friday, July 14 – Denver, CO | Empower Field at Mile High ^+
Saturday, July 15 – Denver, CO | Empower Field at Mile High ^+
Saturday, July 22 – Seattle, WA | Lumen Field *+
Sunday, July 23 – Seattle, WA | Lumen Field *+
Friday, July 28 – Santa Clara, CA | Levi's Stadium *+
Saturday, July 29 – Santa Clara, CA | Levi's Stadium *+
Thursday, August 3 – Inglewood, CA | SoFi Stadium *?
Friday, August 04 – Inglewood, CA | SoFi Stadium *?
Saturday, August 5 – Inglewood, CA | SoFi Stadium *&
Tuesday, August 8 – Inglewood, CA | SoFi Stadium *&
Wednesday, August 9 – Inglewood, CA | SoFi Stadium *&
Last Updated on March 10, 2023 by Dave Clark