Bruce Springsteen and the E Street Band appear to be on something of a tour pause, having just announced the postponement of Tuesday's show...

Bruce Springsteen and the E Street Band appear to be on something of a tour pause, having just announced the postponement of Tuesday's show at Albany's MVP Arena after previously pushing back the March 9 Columbus Ohio gig and Sunday's show at Mohegan Sun in Connecticut. The reason given, "illness" though further details are unavailable.
Due to illness, Bruce Springsteen and The E Street Band's concert at MVP Arena in Albany on Tuesday, March 14 has been postponed.

We are working on rescheduling the date so please hold on to your tickets as they will be valid for the rescheduled show. pic.twitter.com/CjoIFjjFnO

— Bruce Springsteen (@springsteen) March 12, 2023
The reschedule dates for the three postponed shows have not yet been revealed. Springsteen is next scheduled to perform at Philadelphia's Wells Fargo Center on Thursday. Sickness has already taken a toll on the tour, as guitarist Steven Van Zandt and Soozie Tyrell were both absent for a February 10 show in Dallas, later indicating that it was COVID-19 related. Van Zandt, who has fame beyond the E Street Band having played the Sylvio Dante character on HBO's Sopranos, assured fans over the weekend that the latest batch of issues was nothing of a level that threatens the remainder of the tour.

No need to be anxious or afraid. Nothing serious. Just a temporary situation. We will all be back in full force very soon. https://t.co/tsxNJRIl2c

— 🕉🇺🇦Stevie Van Zandt☮️💙 (@StevieVanZandt) March 11, 2023
The postponements do beg some questions regarding the tour, however. This run by Springsteen has been dogged by controversy over the ticket pricing practices employed when it went on sale last year. Fans were furious as "dynamic" surged ticket prices greeted them when the shows were made available, with some events seeing prices far exceeding that. The fallout was significant enough that New Jersey congressman Bill Pascrell demanded answers over the use of "platinum" ticket pricing for the Springsteen tour dates, and the artist himself addressed the controversy, though he effectively shrugged at the fan reaction.
"You certainly don't like to be the poster boy for high ticket prices. It's the last thing you prefer to be," Springsteen told Rolling Stone. "But that's how it went. You have to own the decisions you have made and go out and just continue to do your best. And that was my take on it. I think if folks come to the show, they're going to have a good time."
Just before the tour launched (and a second North American leg of shows went on sale), Backstreets, a longtime fan publication covering the band, announced it was shutting down. In the announcement, they said the decision was due in large part to the ticket pricing mess and the toll it took on the esteem that Springsteen fans no longer felt for the artist once they realized he was fully comfortable with using whatever means the tour promoter and ticketing vendor would enable to maximize ticket revenues.
"Six months after the onsales, we still faced this three-part predicament: These are concerts that we can hardly afford; that many of our readers cannot afford; and that a good portion of our readership has lost interest in as a result."
While many shows along the tour route have gone off without a hitch, at least one show saw the ticket market collapse entirely. Tickets to the BOK Center in Tulsa were available for that February show for below $10, at least on resale marketplaces not propping the price up by using price floors to keep resale tickets from under-selling remaining box office ticket inventory. Now three straight shows have been postponed. And as many who follow the industry know, shows being postponed is sometimes more about under-performing sales than it is about anyone not feeling up for a performance. It can be used to give the event a bit more time to move tickets, while saving the performer from the embarrassment of playing in front of a less than full house – particularly on a tour that has been as hyped and as controversial as this one has.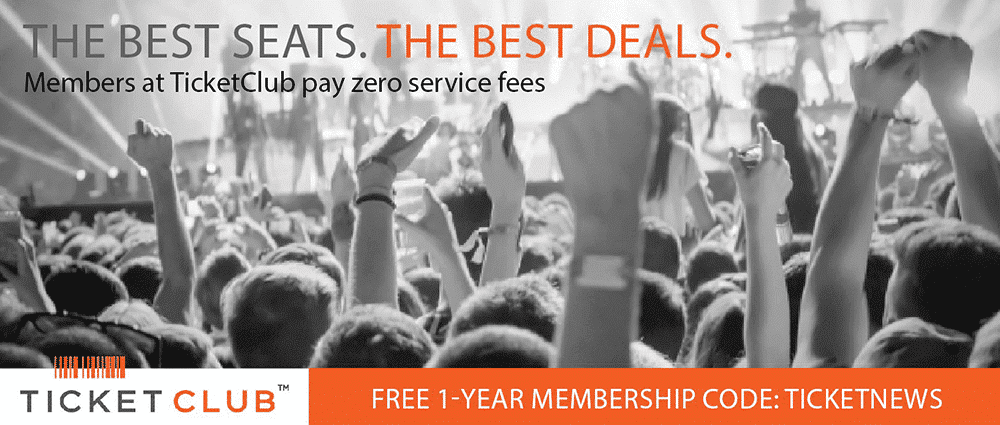 Thursday's show in Philadelphia, should it be on as planned, appears to be sold out – at least as far as ticket availability on the venue box office website is concerned. Resale prices are also strong, with members at Ticket Club seeing a "get-in" minimum for tickets to see Springsteen at Wells Fargo Center of $283 as of Monday morning, though it should be noted that the overwhelming majority of consumers paid more than that for their tickets during the initial price-surged sales period.
Ticket Links
Bruce Springsteen tickets at MEGAseats| 10% off use code TICKETNEWS
Bruce Springsteen tickets at ScoreBig
Bruce Springsteen tickets at SeatGeek
Bruce Springsteen tickets at StubHub
Bruce Springsteen tickets at Ticket Club | Free membership using code TICKETNEWS
Bruce Springsteen tickets at Ticketmaster UK
Bruce Springsteen tickets at Vivid Seats
Bruce Springsteen and the E Street Band Tour Dates – 2023
North America – Leg 1

Mar. 9 – Columbus, OH | Nationwide Arena – POSTPONED, date TBD
Mar. 12 – Uncasville, CT | Mohegan Sun – POSTPONED, date TBD
Mar. 14 – Albany, NY | MVP Arena – POSTPONED, date TBD
Mar. 16 – Philadelphia, PA | Wells Fargo Center
Mar. 18 – State College, PA | Bryce Jordan Center
Mar. 20 – Boston, MA | TD Garden
Mar. 23 – Buffalo, NY | KeyBank Center
Mar. 25 – Greensboro, NC | Greensboro Coliseum
Mar. 27 – Washington, D.C. | Capital One Arena
Mar. 29 – Detroit, MI | Little Caesars Arena
Apr. 1 – New York, NY | Madison Square Garden
Apr. 3 – Brooklyn, NY | Barclays Center
Apr. 5 – Cleveland, OH | Rocket Mortgage FieldHouse
Apr. 7 – Baltimore, MD | Baltimore Arena
Apr. 9 – Belmont Park, NY | UBS Arena
Apr. 11 – Belmont Park, NY | UBS Arena
Apr. 14 – Newark, NJ | Prudential Center
Europe and the UK
April 28, 2023 – Barcelona, Spain | Estadi Olímpic
April 30, 2023 – Barcelona, Spain | Estadi Olímpic
May 5, 2023 – Dublin, Ireland | RDS Arena
May 7, 2023 – Dublin, Ireland | RDS Arena
May 9, 2023 – Dublin, Ireland | RDS Arena
May 13, 2023 – Paris, France | La Défense Arena
May 15, 2023 – Paris, France | La Défense Arena
May 18, 2023 – Ferrara, Italy | Parco Urbano G. Bassani
May 21, 2023 – Rome, Italy | Circo Massimo
May 25, 2023 – Amsterdam, The Netherlands | Johan Cruijff Arena
May 27, 2023 – Amsterdam, The Netherlands | Johan Cruijff Arena
May 30 – Edinburgh | BT Murrayfield Stadium
June 11, 2023 – Landgraaf, The Netherlands | Megaland
June 13, 2023 – Zurich, Switzerland | Stadion Letzigrund
June 16 – Birmingham | Villa Park
June 18, 2023 – Werchter, Belgium | Festivalpark Werchter
June 21, 2023 – Düsseldorf, Germany | Merkur Spiel Arena
June 24, 2023 – Gothenburg, Sweden | Ullevi
June 26, 2023 – Gothenburg, Sweden | Ullevi
June 28, 2023 – Gothenburg, Sweden | Ullevi
June 30, 2023 – Oslo, Norway | Voldsløkka
July 2, 2023 – Oslo, Norway | Voldsløkka
July 6 – London | BST Hyde Park
July 8 – London | BST Hyde Park
July 11, 2023 – Copenhagen, Denmark | Parken
July 13, 2023 – Copenhagen, Denmark | Parken
July 15, 2023 – Hamburg, Germany | Volksparkstadion
July 18, 2023 – Vienna, Austria | Ernst Happel Stadion
July 21, 2023 – Hockenheim, Germany | Hockenheimring
July 23, 2023 – Munich, Germany | Olympiastadion
July 25, 2023 – Monza, Italy | Prato della Gerascia, Autodromo di Monza
North America – Leg 2
August 9 – Chicago, IL @ Wrigley Field
August 16 – Philadelphia, PA @ Citizens Bank Park
August 18 – Philadelphia, PA @ Citizens Bank Park
August 24 – Foxborough, MA @ Gillette Stadium
August 28 – Washington, DC @ Nationals Park
August 30 – East Rutherford, NJ @ MetLife Stadium
September 1 – East Rutherford, NJ @ MetLife Stadium
September 7 – Syracuse, NY @ JMA Wireless Dome
September 9 – Baltimore, MD @ Oriole Park at Camden Yards
September 12 – Pittsburgh, PA @ PPG Paints Arena
November 3 – Vancouver, BC @ Rogers Arena
November 6 – Edmonton, AB @ Rogers Place
November 8 – Calgary, AB @ Scotiabank Saddledome
November 10 – Winnipeg, MB @ Canada Life Centre
November 14 – Toronto, ON @ Scotiabank Arena
November 16 – Toronto, ON @ Scotiabank Arena
November 18 – Ottawa, ON @ Canadian Tire Centre
November 20 – Montreal, QC @ Centre Bell
November 30 – Phoenix, AZ @ Footprint Center
December 4 – Inglewood, CA @ Kia Forum
December 6 – Inglewood, CA @ Kia Forum
December 8 – San Francisco, CA @ Chase Center
Last Updated on March 13, 2023 by Dave Clark