For ticket brokers, the music industry can be the key to much of their success or failure. Knowing the marketplace, with its constantly rotating cast of favorites and ever-changing preferences and styles, can make or break individuals and companies. That's why it was a packed house for the Thursday keynote at Ticket Summit, where a trio of heavy hitters spoke at length and candidly about the business for all those in attendance.
The experts were Michele Bernstein, Partner and Head of Tour Marketing and Ticketing for WME, Bryan Perez, CEO of AXS, and David Marcus, EVP and Head of Music for Ticketmaster. Curtis Cheng of DTI management served as moderator, guiding the conversation and posing questions relevant to the brokers in the room, giving the experts room to talk at length as needed.
Billed as an in-depth discussion of trends in music ticketing, focusing on how the industry is changing, what opportunities are available for brokers, and how current trends can be turned to one's advantage, the conversation covered a huge array of topics of interest to those in the room.
As one might expect given the room and the occasionally contentious relationship between content holders and primary marketplace reps and brokers, much of the conversation was centered around how the proverbial sausage is made, in terms of pricing and other factors central to the broker relationship to their world.
But it was not an adversarial conversation – far from it. All on the stage recognized the importance that resale can play in their world, given the reality of what the free market is willing to pay for certain experiences vs. what an artist might be comfortable charging for that experience.
"I don't think our goal is to stamp out the resale industry," Perez said. "Our goal is to embrace it in a way that drives revenue for ourselves, our venue clients, and our promoter clients."
"Part of our job is to work with Michele and hear what the artist cares about," Marcus said. "Do I need to get every dollar out of the market, or do I need to make sure [the artist's fans] can get tickets for $99. We have to get as close as we can to deliver that value to the artist, and correspondingly, to the fan.
"The trick is how do we balance the fan experience, the artist's desires, and where on that continuum of 'every dollar in the market vs. "x" price' are we in that particular campaign."
Of course, the outlook wasn't as rosy for everyone in the room. Secondary marketplaces such as TicketNetwork and Stubhub were clearly not as welcome under the tent that the industry was looking to set up. Perez indicated that current thinking is that there is a "survival game" in place for venues and promoters, which is why there is such a push to own both primary and secondary marketplace sales.
"We want to make it so that everybody in this room is selling on our platform because it is better," he said, adding "You can't be lazy in this business."
Much of Marcus' commentary was related to Ticketmaster's battling against bots as well as its much-touted "Verified Fan" program, which essentially allows the ticketing giant to choose who gets the opportunity to purchase tickets for certain events. Related to the much-maligned bots, which are illegal, he made the point that even though his company blocked 5 billion bot attacks in the previous year – a figure that only meant if that accounted for 98% of bot attacks, bots would have still made it through to purchase every ticket available for every show.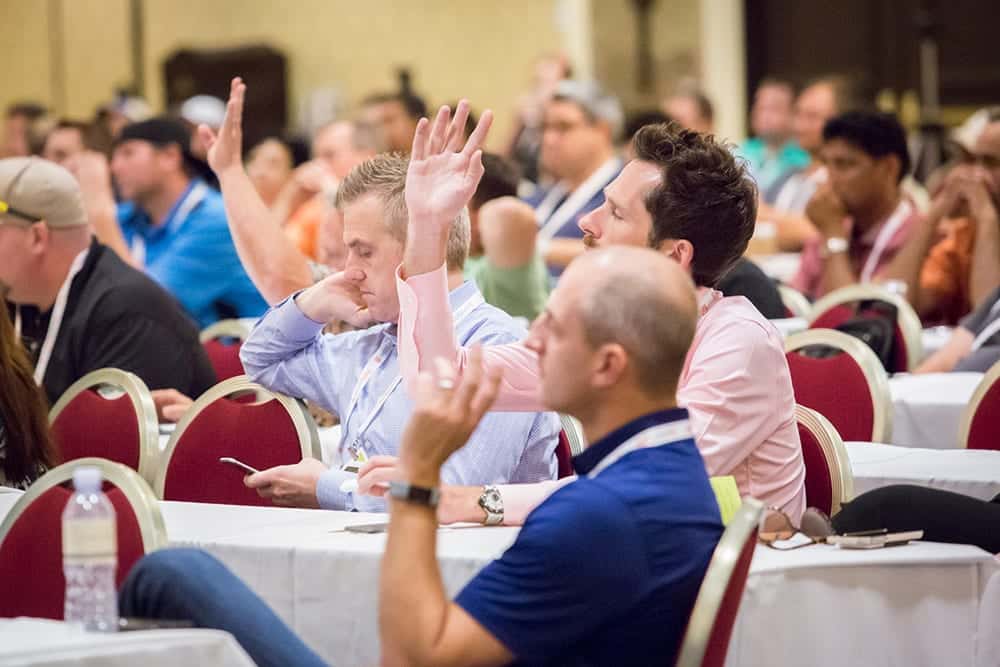 He touted Verified Fan as a way to eliminate that problem, because it allows venues and artists to essentially dictate who has the right to purchase tickets in the first place. By collecting information ahead of time (via data harvesting through both Ticketmaster's account history and opt-in social media access from users, depending on the show being sold), the company can prioritize who it feels should get access, which wouldn't include bots. It presumably wouldn't include professional brokers either, unless the sales were soft, but obviously that went unsaid.
"We can do [onsales] in a way that doesn't require tens of thousands of people to crash into a system [simultaneously]," he said. "We can be much more fan-focused and identity-driven. Once you get out of the sense that the [public onsale] has to exist, [bots can be eliminated as a problem.] The Bots are a symptom of the problem – there will always be other issues, but it won't be bots."
One of the first questions of the day from Cheng was straightforward – did they as industry representatives believe that the ticket should stay as a revocable license – e.g. owned by the venue and artist, rather than the customer who pays for it. Marcus admitted he understood why many in the room would support the view that the ticket should be personal property after purchased, but naturally, he sided with the prevailing current notion that it remains a license. "A ticket is just a mechanism for connecting a fan to a live entertainment event," he said.
Perez echoed the sentiment.
"I understand the right of first sale and believe in open markets, but with the notion of an event, it's an experience… not a toaster," he said. "What's the difference between an event ticket and an airline ticket," he later remarked. "Essentially they're both the right to do something that somebody else is providing."
Much of Bernstein's role in the panel was to illustrate her company being the go-between from artists to those running their events and ticket sales. Ultimately, she said, what her clients say is what she and her company have to make sure is what's happening. If that means they want to maximize revenue, that's the way they set up their tours. If it means they want to try to make sure teenage fans with limited money can make it to the concert, that's how things are built.
"We don't have a view," she said in relation to the license vs. purchase discussion. "We work for the client, and what we have to do is facilitate what the artist wants to do, and we're kind of wedged in the middle."
"Client frustration starts when they see their fans can't get tickets on the front end to begin with. In the age of social media, those posts are instantaneous. The message gets out that nobody can get in, [and the artists see and react to that.]"
All told, it was a long but illuminating discussion, one that showed where the music industry stands, and where some key figures in it view the future. There will certainly be a role for brokers in that future, but what that role is, and how the proportional profitability may break out, are still up for debate.
Last Updated on July 26, 2017