Three years ago, there was a minor media frenzy related to then-New York Attorney General Eric Schneiderman and some large donations made to his...
Three years ago, there was a minor media frenzy related to then-New York Attorney General Eric Schneiderman and some large donations made to his campaign from private equity executive Robert Smith and his wife Hope. Smith, who is the CEO of Vista Equity Partners, donated $65,000 to Schneiderman's 2018 campaign in December of 2015, followed by a $65,100 donation made in January of 2016 by his spouse.
Things quickly blew over – "on the surface it looked pretty bad," wrote Fortune's Dan Primack in February of 2016, but a little further investigation led to the conclusion that there was "no evidence of conflict." Where the initial concern over the propriety of the donations stemmed from a 2012 investigation of private equity firms and their accounting methods by Schneiderman's office, that investigation was centered on the New York False Claims Act, which wouldn't apply to Vista Equity Partners or its executives, as they didn't have an office in New York.
But, according to a tip received by TicketNews, it's possible that the donations in question – and many more since – are actually tied to the ticketing industry and the now-disgraced former Attorney General's investigations into it.
All told, nearly $380,000 was donated to Schneiderman's campaign from late 2015 to his resignation in May of last year by executives and other employees of Vista or companies closely aligned with it. These donations occurred both before and after Vista's acquisition of a stake in Vivid Seats, which was announced in January of 2016.
Vista Equity Partners and AG Scheiderman's Office
In May of 2015, six separate donations of $5,000 each – $30,000 in total, went to Schneiderman 2018 from lawyers working for Kirkland & Ellis – a firm which represents Vista on a number of deals, including the eventual one with Vivid Seats. On December 11 of that year, Robert Smith made his $60,000 contribution, just three days after the New York Times reported on Schneiderman's office formally contacting Vivid and other resale marketplaces regarding "speculative" listings.
A day after the announcement of Vista's investment in Vivid, Hope Smith – Smith's wife and a former Playboy playmate – donated $65,100 to Schneiderman's campaign. Later in that same year, a Kirkland & Ellis attorney named Jeffrey Hammes donated $10,000 to the campaign. The running tab from May of 2015 to July of 2016? $165,000.
After a hiatus, Vista co-founder and President Brian Sheth kicked off 2017 with a  donation of $65,100 to Schneiderman's campaign in January. When May rolled around, Briana Fosnaugh – wife of Michael Fosnaugh, a partner at Vista – made a $10,000 donation of her own. June of 2017 saw another rush, as two Vista employees made separate $10,000 donations to Schneiderman on June 12, followed by four other employees making donations of the same amount on June 13. That's $60,000 total from six individuals in two days.
A month later, another $10,000 donation came through from Vista employee David Bonnette. That brought the total from Vista-related individuals in 2017 to $145,100, moving the overall total since 2015 to $310,200.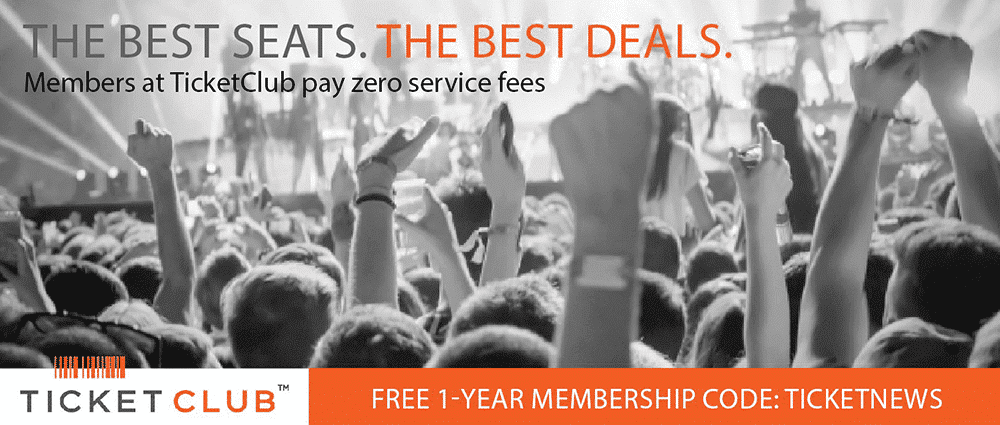 Donation activity once again resumed in January of 2018, with two Vista employees (who had both donated in 2017) making separate $10,000 donations each on January 12. Another employee donated $10,000 on January 18, followed by another pair of employees making $10,000 donations on January 23. A day later, Briana Fosnaugh – the wife of Vista partner Michael Fosnaugh – donated $10,000 herself. The last donation from a Vista-related individual came on January 28, when Sheth made his second donation to Scheiderman's 2018 campaign, this time for $8,928.57.
Exactly zero dollars of the money being donated to the campaign of the incumbent Attorney General in New York came from individuals who resided in that state. The donations came from residents of Texas, Illinois, California, Washington D.C. and Georgia, according to donation records available online.
Four months later, Eric Schneiderman's tenure as Attorney General abruptly ended. A vocal supporter of the #MeToo movement, he resigned hours after accusations of abuse from four women were published in The New Yorker.
The Donations to Schneiderman's 2018 Campaign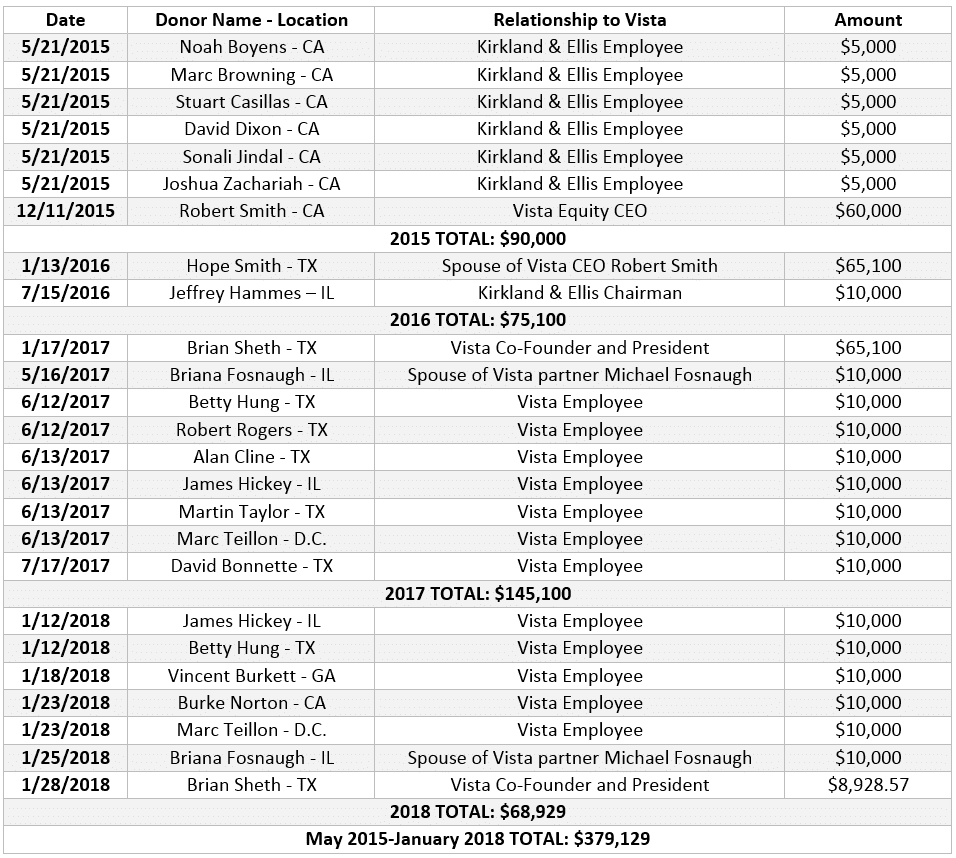 Eric Schneiderman vs. Ticketing
Followers of the ticketing industry and this website are presumably well familiar with the litany of actions taken by Schneiderman's office regarding the legality and practice of ticket resale in New York. Schneiderman was a vocal opponent of the extension of the ticket resale law in New York, which provides both a strong (some would say onerous) regulatory atmosphere surrounding the industry, but also protects consumers and resale companies from vindictive practices on the part of venues and promoters seeking to control both the primary and secondary markets for event tickets.
In December of 2015, Schneiderman's office sent letters to the ticket resale market leaders – StubHub, TicketNetwork and Vivid Seats, regarding its position that tickets should not be allowed to be listed for sale prior to the tickets being physically in possession of the individual listing them. Just over a month later, his office released the report "Obstructed View: What's Blocking New Yorkers from Getting Tickets", which outlined concerns with how both the primary ticket sales ecosystem and the secondary resale market operate, inclusive of massive venue and promoter holdbacks, the use of automated "bot" software, fees, and the legality of price floors set by primary sellers for resale tickets (to keep resellers from competing with still-available primary tickets by pricing below face value).
April of 2016 saw the announcement of a major settlement – $2.7 million in total – with ticket brokers who were found to have been using bot systems for the procurement of tickets. Just over a year later, another settlement was announced, this time for $4.7 million.
All the while, Schneiderman's office worked in the background against "speculative" listings being legal, regardless of what the law actually said on the matter. That December 2015 letter was followed in May of 2016 by another, sent this time to Ticketmaster, Vivid Seats, TicketNetwork and StubHub, pushing for increased transparency on these listings. Over the next two years, officials from TicketNetwork and Schneiderman's office worked back and forth to find a satisfactory middle ground. But sources close to the negotiations say that at several points, the New York officials hardened their stance and pushed back against proposed remedies that worked for all parties.
The negotiations ground to a halt in 2018. In September, Ticket Galaxy and TicketNetwork filed a lawsuit against then-acting Attorney General Barbara Underwood. In that lawsuit, they alleged the ongoing investigation into ticketing had begun to unfairly target their business over similarly operating outfits in the industry. The filing asked for a declaratory judgement that their practices in ticketing did not violate any New York law. Underwood's office quickly countered with a lawsuit of its own against both companies. Both lawsuits are still pending.
No other companies in the resale space have been targeted by such a lawsuit from New York authorities, despite the prevalence of speculative listings on several marketplaces, including Vivid Seats.
Are Authorities Looking The Other Way on Vivid Seats?
It is unclear whether or not other operators agreed to make changes to their business models in the wake of the letters that Schneiderman's staff sent in early 2015 and 2016. What is clear, however, is that Vivid Seats continues to have category/zone listings up to this day, but have apparently avoided the enforcement action that their competition currently faces.
In about 20 seconds, you can search "Hamilton" tickets – appropriate, given how much of the ticketing row in New York has been generated by the massive market and ticketing activities related to that production – and find that there are listings on Vivid Seats that couldn't possibly be anything but "speculative," according to the definition pushed by Schneiderman's office. Listings for the summer of 2020 production at Houston's Sarofim Hall are right there – performances that were just announced seven days ago, and for which ticket sales have yet to be announced.
The prevalence of "Bot" brokers is also an issue of major sensitivity to the New York Attorney General's office both past and present – indicated by every public comment made on the ticketing world and the settlements against Bot brokers touted by Schneiderman's office. In each of those settlements, documents indicate that Vivid Seats was a place where tickets procured by those measures were posted for sale.
One ticket industry executive, speaking on condition of anonymity, told TicketNews that "the two largest bot brokers [in the U.S.] worked in tandem, and had a special deal with Vivid Seats." That deal was predicated on their listings being kept anonymous within the company's system.
If Vivid Seats is participating in the very acts which the New York officials under both Eric Schneiderman and his successors have indicated to be the core of what they consider to be the malfeasance in need of correction on ticketing, the question has to be – how are they not also a target for enforcement?
What Do The Donations Mean?
It is impossible to say with certainty whether or not the pattern of donations outlined here represents anything other than politically-engaged individuals donating to an incumbent holding a powerful office in a state outside of the one in which they reside. The 2016 Forbes piece on the initial $130K donations from Smith and his spouse pointed out that the then-Attorney General and equity executive shared common interests including Jazz music.
A more cynical view to take is that there is at least a slim possibility that the pattern of donations indicated a targeted lobbying effort by employees of a company that had a direct interest in how the office in question might enforce the legal boundaries of ticketing in one of the largest markets in the world.
Requests for comment sent to the current Attorney General's office this week have not received a response. Similar requests for clarification or comment sent to Vivid Seats, Vista Equity Partners, and GTCR, a private equity firm which purchased a large stake in Vivid Seats in 2017 have not received any response as of Wednesday afternoon. We will update this story with any response received.
Last Updated on March 13, 2019 by Sean Burns