Hellyeah has returned with news of a forthcoming record, Welcome Home, and a tour across the country later this summer.
Welcome Home, the group's sixth studio album, is due September 27 via Eleven Seven Music. The record will be their final LP that includes drumming from the late Vinnie Paul; it features 10 new tracks that are driven by the band's "love, loyalty, reverence and respect for their fallen brother." So far, they have released the single "333."
Paul, the metal legend formerly in Pantera, died late last year suddenly from a dilated cardiomyopathy, or enlarged heart, along with coronary artery disease. In March, Hellyeah revealed that they've tapped Stone Sour drummer Roy Mayorga to step in for Paul on tour.
The brief tour, dubbed "A Celebration of the Life of Vinnie Paul," will begin on July 23 in Atlanta, Georgia, followed by gigs in cities like Wichita, Denver, Minneapolis, and Detroit. Throughout the outing, they'll make stops at various House of Blues establishments in Myrtle Beach, Boston, Cleveland, Chicago, and Houston before wrapping-up at the HOB in Dallas, Texas.
Bassist Kyle Sanders explained in a statement that while Paul is obviously irreplaceable, "one thing we can't not do is tour."
"As easy as it would be to say we're not going on the road, we have to. Vinnie would be extremely disappointed in us if we didn't promote this record properly. He'd be pissed off at all of us for putting all this work into finishing the record and then just letting it sit there on the shelf while we put a couple of songs to radio and whatever…and we know that."
Over the weekend, Hellyeah performed for the first time with Mayorga and without Paul in Las Vegas. In honor of their late bandmate, Clark County, Nevada officially dubbed May 11 as "Vinnie Paul Day," since he resided in Las Vegas for many years until his death.
Check out the group's full list of upcoming tour dates below.
Visit Ticket Club to find tickets to see Hellyeah on tour this year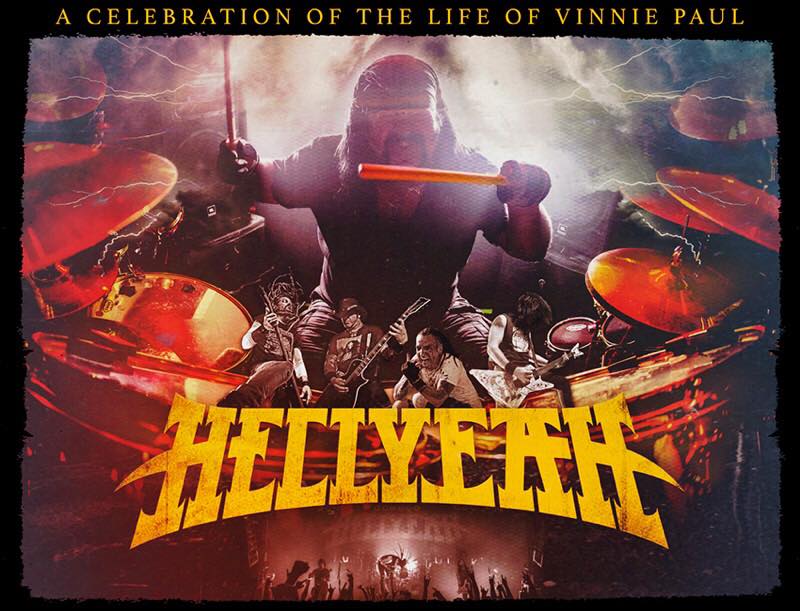 Hellyeah Tour Dates 2019
07/23 – Atlanta, GA @ Buckhead Theatre
07/24 – Myrtle Beach, SC @ House of Blues
07/26 – Silver Springs, MD @ The Fillmore
07/27 – Inwood, WV @ Shiley Acres
07/28 – Boston, MA @ House of Blues
07/30 – Stroudsburg, PA @ Sherman Theater
07/31 – Cleveland, OH @ House of Blues
08/01 – Green Bay, WI @ The Green Bay Distillery
08/03 – Denver, CO @ Summit
08/04 – Sturgis, SD @ Iron Horse Saloon
08/07 – Minneapolis, MN @ Varsity Theater
08/08 – Chicago, IL @ House of Blues
08/10 – Detroit, MI @ The Fillmore
08/11 – Grand Rapids, MI @ 20 Monroe Live
08/13 – Wichita, KS @ The Cotillion
08/14 – Oklahoma City, OK @ Diamond Ballroom
08/16 – Houston, TX @ House of Blues
08/17 – Dallas, TX @ House of Blues
Last Updated on May 15, 2019 by Olivia Perreault