The news from Eventbrite's (NYSE: EB) recent stock woes continues to pile up, as another class action lawsuit has been filed against the company over the rapid decrease in value that shareholders have seen in recent weeks.
The lawsuit, filed by Scott+Scott Attorneys at Law LLP, alleges that "Eventbrite made false and/or misleading statements and/or failed to disclose that, at the time of [its IPO], the migration of creators from Ticketfly to Eventbrite was progressing more slowly than stated," reads a press release issued by Scott+Scott Tuesday. This forced "the Ticketfly integration to take longer than expected, and the Company would thereby face headwinds in revenue and growth."
On September 19, 2018, Eventbrite conducted its IPO at $23 a share. The lawsuit alleges that in the IPO registration statement, Eventbrite stated that its acquisition of Ticketfly "had a positive impact on our net revenue growth" in the third quarter of 2017.

On March 7, 2019, however, Eventbrite reported its annual financial results, and in a related conference call, stated that the strategy to integrate Ticketfly "will impact revenues in the short-term." On this news, shares of Eventbrite fell more than 24%, closing at $24.46 on March 8, 2019.  Further, on May 1, 2019, the Company announced a first quarter loss, along with revenue, and second-quarter guidance that were both well below analysts' estimates.  On this news, Eventbrite's stock declined more than 27%, closing at $17.60 per share.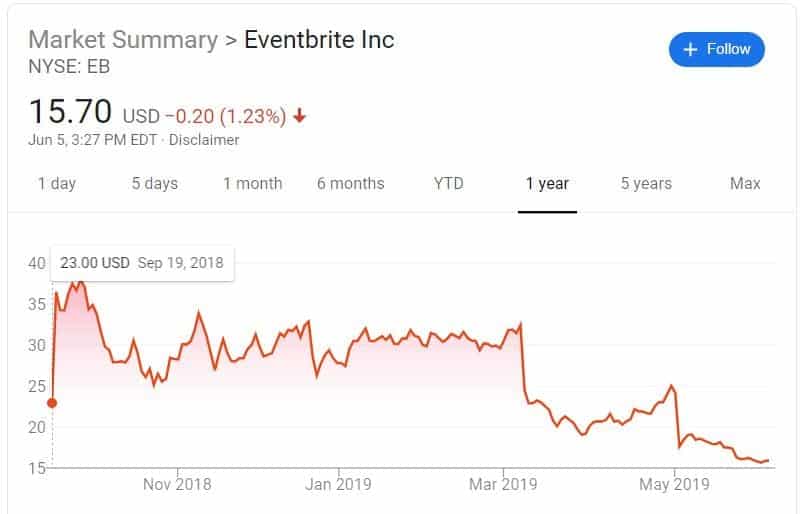 Eventbrite stock has remained in the doldrums since that time. As of Wednesday afternoon, it is trading at $15.68, having closed at $15.91 Tuesday.  The company has been targeted by at least three other class action lawsuits related to the decline in its stock prices since early May. In late May, TicketFly co-founder Andrew Dreskin announced he would be stepping down as president of Eventbrite Music and transition to a consulting role in June.
Those who purchased stock in the IPO or through March 7, or have questions are asked to contact Scott+Scott's Joe Pettigrew by June 14 at (844) 818-6982, or at [email protected]
Last Updated on June 5, 2019 by Sean Burns