by Eric Fuller Battle lines being drawn Nobody's right if everybody's wrong -For What It's Worth by Buffalo Springfield Sometimes, in the search for...
by Eric Fuller
Battle lines being drawn
Nobody's right if everybody's wrong
-For What It's Worth by Buffalo Springfield
Sometimes, in the search for incremental profit, entire businesses are destroyed. Some people call this stepping over dollars to pick up dimes. Some call it simple greed. Others, perhaps with more emotional intelligence, point out that trust between a merchant and its customers is earned in raindrops and lost in a single breach. For me, I'm watching in amazement as an economic boom begins to fade while those who sell tickets for live events seem oblivious to the effect of simultaneously making tickets harder to purchase and more expensive.
Once again, we turn to Taylor Swift as the leading indicator of the chaos in ticketing. Honestly, I write about her impact on the ticket business so often I should nominate Taylor for the Nobel Prize in Economics. Last week Taylor Swift put tickets on sale for her Lover West and Lover East shows. These two stadium events are the only full concerts she has scheduled in the United States during 2020. Lover West, at the new Rams' SoFi stadium near Los Angeles, CA will be held on July 25th and July 26th. Lover East, at Gillette Stadium near Boston will be held on July 31st and August 1st.
What's interesting is that the way in which these shows were sold was not well received by Taylor's fans who reported a variety of problems:
https://www.ticketnews.com/2019/10/taylor-swift-fans-presale-tickets-lover-fests/
For all the Taylor Swift fans who are presently upset because they couldn't navigate the waiting rooms and endless holds before the Lover shows "sold out" — You need to calm down.
SoFi stadium in Inglewood, CA holds approximately 100,000 people. Gillette's capacity is closer to 80,000. Both shows are "sold out", but as of October 19, 2019, StubHub shows the following availability for resale tickets:
SoFi Stadium Inglewood, CA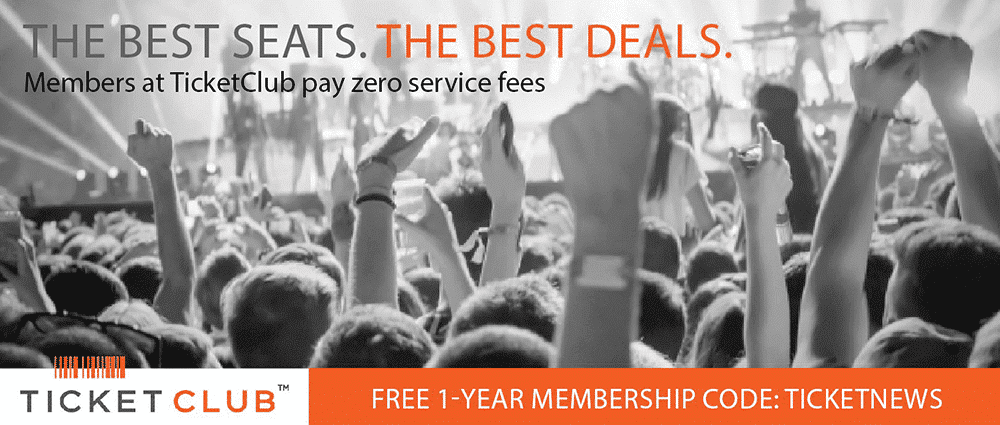 July 25: 5,050
July 26: 7,579
Gillette Stadium, Boston MA
July 31: 5,201
Aug. 1: 3,867
Currently there are approximately 20,000 tickets on the resale market, and likely another 5,000+ tickets per night which have not yet been put up for sale by the primary market. And, there's nothing preventing Taylor Swift from adding a third show in each city, as historically she has always done in both the Los Angeles and Boston marketplaces.
I believe that if you make the process of buying something fun sufficiently painful, eventually no one will try. That's part of what's happening as ticket markets struggle to gain market share for themselves while excluding the ability of other players in the space to compete. It's playing out in two ways: extensive hurdles to completing a purchase from primary markets and random, late and unannounced changes to the way tickets once purchased may be transferred, if they are allowed to be transferred at all which adds risk to anyone buying from the secondary market.
I've already written extensively about the Black Keys late and unannounced cancellation of transferability for their show at The Wiltern. The O2 Ritz in Manchester recently tried this for a Liam Gallagher / Radio X show and just this week we saw the same potential game at play by Rex Orange County for his show on October 22nd at The Roxy in Los Angeles. I understood the high demand for the Black Keys first concert together in five years, held in a small room and the demand for the Radio X show. But, who is Rex and why if he's from Orange County are we worried about his show at the Roxy? As I wrote this sentence, my reporting software showed I sold a pair of Rex Orange County tickets for a total profit of $14.72. He must really be on fire. Market price was almost 12% above face value. What's the next test for an unannounced bar on ticket transferability after they've been sold — DaBaby at Gymboree's reopening in 2020?
https://twitter.com/don_shano/status/1185361311854673921?s=20: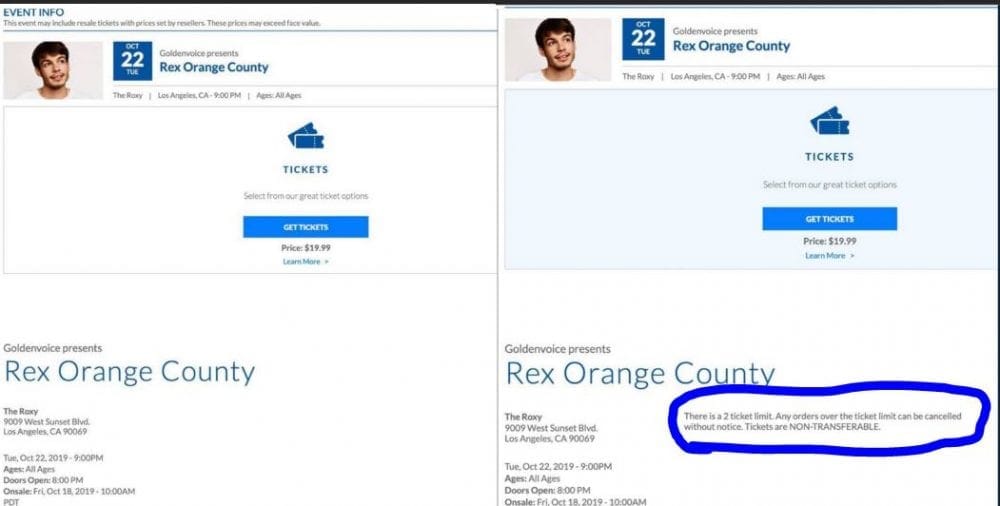 Let me be very clear — allowing consumers who, in good faith, bought tickets from legitimate markets to show up for an event with those tickets only to be turned away because they bought them on the "wrong" market is a very bad idea. Currently, consumers trust that the tickets they buy will work. Break that trust and you'll have quite a challenge getting them to believe any tickets are valid. Once that filters through the economy, everybody's sales tank and profits evaporate.
And, although this is being packaged for the artists and producers, there is a lie being propagated which is that "bad actors" are distorting the ticket markets, so ticket transferability is in place to protect consumers. Now, certainly there are some groups which have organized to violate the laws in place against using "bots" which are computer programs designed to leapfrog consumers and harvest tickets. But, there is both the BOTS act which makes that illegal at the Federal level and many, many state laws which prohibit such activity. In addition, companies such as Distil networks, Confluent Kafka and LightStep work behind the scenes to help primary markets block bot traffic.
https://www.pollstar.com/article/the-golden-ticket-artists-make-plays-for-more-control-in-ever-evolving-market-141423
https://searchitoperations.techtarget.com/news/252472217/Ticketmaster-unifies-DevOps-monitoring-with-Confluent-Kafka
Making high demand tickets non-transferable in order to dissuade "bad actors" from using unlawful technology is silly. It's like deciding to fight speeding by requiring that each and every car have a speed governor operated by the local police. Most people follow the law. That's the way our society works. For those who don't, there are a multitude of remedial processes, from civil litigation to criminal prosecution.
Perhaps, learning from The Emperor's New Clothes, we can simply say what is obvious to everyone. Making tickets non-transferable is about denying competing markets the ability to resell tickets which the primary market would prefer to resell itself. Making tickets non-transferable is a grand experiment in closing borders, taking a market which works across all platforms and dividing into multiple closed loop systems.
I've only seen a closed loop system truly succeed once: Apple. And, here's the trick about Apple: their products are very easy to use and their management is laser focused on the customer experience. The devices are elegant in design, the stores are beautiful, and consumers can easily reach Apple customer care by internet, telephone or in person worldwide. As a result, Apple is perhaps the most successful company in the world and could, if it desired, purchase every major player in the ticket world without ever missing a step. Their net cash accumulation in one year would more than replace whatever it might cost to buy Live Nation, StubHub, ASM Global, OVG and WME.
One other thing: the major markets are not renegade operations. Live Nation is a NYSE traded company whose primary shareholder, through Liberty Media, is John Malone. Malone is worth $7.2 billion and sits at #75 on the Forbes 400. StubHub is a subsidiary of eBay which trades on the NASDAQ. eBay's founding shareholder is Pierre Omidyar who is worth $12.4 billion and #26 on the Forbes 400. ASM Global is privately held with 61,000 employees around the world. Philip Anshutz, ASM's primary shareholder is worth $12 billion and #41 on the Forbes 400. OVG (Oak View Group) is in the process of spending $3 billion building arenas globally in addition to the arenas in its global alliance. OVG is owned in part by Tim Leiweke and Irving Azoff, both well respected visionaries in live entertainment. OVG also owns Pollstar and Venues Now magazines and holds several of the industry's leading conferences. WME (William Morris Endeavor) is an incredibly powerful agency representing talent across all media. Reportedly they've been seeking an entry point into the ticket world such as when they just attempted to acquire OLE (On Location Experiences) for $700 million. I would never bet against any company led by Patrick Whitesell and Ari Emmanuel.
The most recent estimate I've seen for the US ticket market is $20 billion annually in sales and growing. This is not a small marketplace. But, the biggest players keep trying to introduce new ways to squeeze out the smaller challengers.
For the uninitiated, the ticket market breaks down as follows:
a. Primary markets which sell tickets for a particular venue, act or team. The leading companies in this space are Live Nation (Ticketmaster), ASM Global (AXS), EventBrite, See Tickets and certain sports leagues
b. Resale ticket markets which list tickets they have purchased, tickets sent to them by primary markets which need additional distribution channels to move a particular event and those tickets which speculators have purchased, all in hopes of making a profit on the difference between the price which the owner of the ticket is willing to accept and what their customers are willing to pay inclusive of a service fee of approximately 35% The leading secondary markets are eBay (StubHub), Live Nation (Ticketmaster resale), Vivid Seats, SeatGeek, GameTime and Ticket Network.
c. Closed system resale markets mostly operated by sports leagues which dictate minimum selling prices and often limit the ability to profit from reselling a ticket by only allowing the ticket to be resold at "face value".
d. Peer to peer markets such as Craigslist, Offer Up, Facebook etc. on which individuals try to avoid buyer or seller fees which are assessed by resale markets, while exposing themselves to greater risk of counterfeit tickets or payment chargebacks.
e. Discount outlets such as Goldstar, ARTSTIX, TravelZoo and Groupon where slow selling tickets are dumped by promoters, sometimes with limited information about the actual location of the ticket within the venue. For many of these tickets the buyer saves up to 50%, but only receives a voucher which is redeemed at the event for tickets which is when the actual section, seat and row location of the seats is revealed.
f. Street sellers who buy and sell tickets outside the venue the day of an event.
Ultimately, all of these disparate players, working both collaboratively and in competition have created a ecosystem which functions. Ticketmaster alone sells 550 million tickets annually. Many of these tickets and others filter through the secondary markets and wind up in the hands of fans. The system works, it's been tested for a decade and consumer trust has been established because of two factors: the tickets work and the markets are trustworthy.
Artists are being levered to work against the secondary markets without fully understanding what that may do to their ability to sell tickets. Resale markets and ticket brokers buying tickets create demand. Demand drives scarcity. Scarcity creates urgency. Absent urgency, there's no reason to rush to buy tickets when they go on-sale, which ultimately leads to fewer sellouts and more price discounting. It also diminishes the ability to dynamically price up a show, and kills the idea of selling Platinum tickets. Who's going to pay super high prices when the blue dots on the map show half the venue is still available?
Remember, most people only attend a couple of events a year. For them, it's easier to just go to StubHub and select the exact seats they want from a map displaying all choices, than it is to spend three hours registering for a code, waiting for a text, then holding in a virtual waiting room, only to be given 2 minutes to check out whichever tickets they were lucky enough to cart. No one wants to buy something that way. Imagine attempting to reserve a hotel room without the ability to select between a King bed and two Queens, or to compare prices on Trivago to Expedia.
Also, much like hotel rooms, tickets have a declining value as the date of the event approaches, except in the most unusual circumstances of high demand. That's why so many consumers have migrated to GameTime which promotes the idea that a ticket purchased 15 minutes before, or sometimes after, curtain time is likely to be much cheaper. If we go to closed loop systems, face value will be face value. There will not be the ability for consumers to save money because ticket brokers overbought a show and need to get out of the tickets before the value goes to zero, or because brokers who invest in season tickets for various sports teams need to unload tickets to lesser demanded games because they bought seasons in hopes their team makes it to the playoffs where the prices rise rapidly.
Here's my advice for anyone who's interested: Don't fix what isn't broken. I've advised a lot of companies over the years, and see the same single mistake cost the most money. It's this: the most money lost always happens when you try to get the last penny off the table. Or, more simply: pigs get fat, hogs get slaughtered. There's a functioning marketplace for live event tickets growing worldwide even as the economy slows. My grandfather taught me no one ever went broke taking a profit. Work on making the ticket buying experience better for consumers and everybody's profits will grow.
This post was originally published at Medium. It is republished here with the author's permission.
About the Author
Eric Fuller is an $895/hour consultant advising leading companies in the live event space. If you are an investor, artist, promoter, team, producer, venue operator, primary or secondary market of ticketed events or have comments on this article, please don't hesitate to contact me: [email protected]
Last Updated on October 22, 2019 by Sean Burns