Drake performs in 2016. Photo by The Come Up Show/CC by 2.0 via Wikimedia Commons
Are you a Drake fan and missed out on buying tickets (or couldn't afford them) for his ongoing tour when it first went on sale? There's some good news for you – the rapper announced a team-up with Dave's Hot Chicken. The chicken restaurant chain – which Drake has an ownership interest in – is offering fans a chance to win tickets to see the rapper on tour.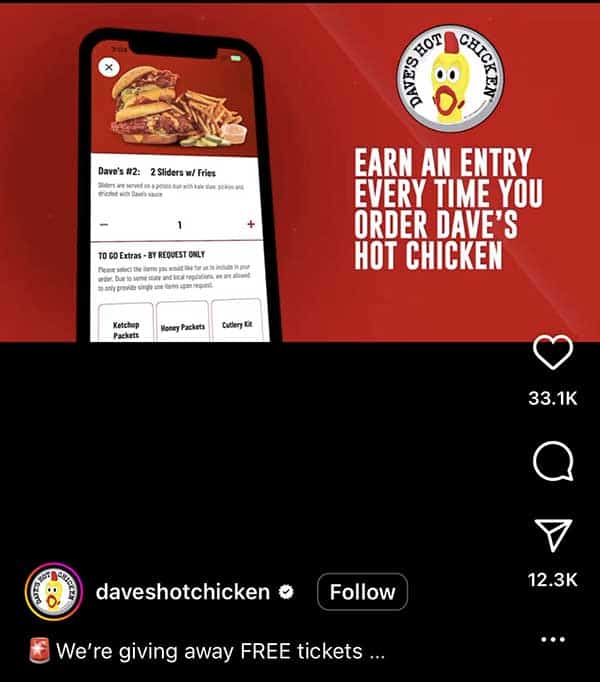 "Drake is a global superstar, and we're thrilled to have him as an investor," said Bill Phelps, CEO of Dave's Hot Chicken. "Drake invested because he loved the food and the founders' story of starting Dave's with $900 in a parking lot. We hope Drake fans across the country will visit us this summer and experience the taste that made him excited to invest in the brand. And, when they do, they'll have a chance to win tickets to watch Drake in concert during his It's All a Blur tour."
To be eligible for tickets, fans must download the restaurant's app to their mobile devices and select their preferred concert date and location. No purchase is required to enter, though purchases logged through the rewards program will get you additional entries and a better chance of scoring tickets.

While this is good news for fans, it does raise some questions related to the scope of the giveaway and what it could mean in terms of ticket sales for Drake's tour. The initial sales process for the It's All a Blur Tour was full of fan complaints over surged ticket prices, which has become enormously common as promoters including Live Nation have increasingly relied on skyrocketing asking prices for tickets to pad their bottom line at the expense of consumers.
Drake ticket prices are wild for the Atlanta show. I didn't even pay this to see Beyoncé pic.twitter.com/RbZAMOHd8i

— … (@Iamnishhh) March 15, 2023
Drake lost his mind with these tour prices let's be fr 💀

2 floor tickets legit equal my rent 😭 pic.twitter.com/yD0wWrxH9U

— 𝖘𝖚𝖙𝖆𝖓𝖆𝖎 ♡ (@NINETYSlX) March 15, 2023
After that initial disappointment with outrageous pricing, several dates were pushed back from their planned scheduling in April, raising questions about sales expectations being missed amid the sky-high prices.
Are the delays and the giveaways a mask to cover poor sales and make sure buildings are full when Drake takes the stage? If so, this wouldn't be the first time that so-called "slow ticketing" has led to such a backfire, with the biggest fans paying top dollar on surged prices, while casuals grab great seats for free or at huge discounts to avoid embarassingly empty crowds.
One of the highest profile instances was on Taylor Swift's Reputation tour back in 2018. TicketNews reported on free tickets being distributed through an unrelated venue in early May 2018, one of several instances where rumors of seat-filling on the tour swirled despite it eventually being the highest-grossing tour of the year. Loyalty Club members of the Mountain Winery were entitled to a pair of free tickets for the Friday, May 11 performance at Levi's Stadium – just for replying via email to the offer. It later came to light that huge numbers of tickets were given away for the concert.
"We made over $3 million on the first show and lost over $2 million on the second show," Santa Clara Mayor Lisa Gillmor told the newspaper. After selling some 50,000 tickets for the first show on sale at the venue (Saturday, May 12), the second show was added along with second and even third shows in several markets "due to unprecedented demand." That second show, however, sold under 30,000 tickets, necessitating the freebie dump.
Beyonce and Jay Z's ON THE RUN Tour also ended up giving away free tickets, due to empty seats, leaving fans who paid full price in disarray. "The concert rate was empty," one fan wrote. "They knew the concert wasn't going to sell out and already had curtains set up before the show to cover the empty sections."
Even Drake performances have been bitten by poor sales driven by outrageous asking prices. A co-headlining show with Ye (AKA Kanye West) tried for top-dollars on short notice, only to see demand fall well flat. The rapper also saw a Young Money reunion show postponed by a week after pricing complaints last year.
Looking at the ticket prices on sites like TicketClub.com, the market still appears strong. The standard price for tickets are anywhere between $380- $10,859. It remains to be seen if the giveaways are just a small scale activation designed to help his own business, or part of a larger ticket distribution strategy.
The cities participating in the Drake ticket giveaway are as follows:
New York City (July 23)
Washington, D.C. (July 28)
Milwaukee (Aug. 3)
Los Angeles (Aug. 13, 15, 16, 21, 22)
San Francisco (Aug. 18)
Seattle (Aug. 25)
Las Vegas (Sept. 1, 2)
Glendale, Ariz. (Sept. 5)
Denver (Sept. 8)
Dallas (Sept. 14)
Houston (Sept. 17)
Charlotte, N.C. (Sept. 22)
Miami (Sept. 28)
Nashville (Oct. 2)
Toronto (Oct. 5)
Ticket Links
Drake tickets at MEGASeats.com | 10% off use code TICKETNEWS
Drake tickets at ScoreBig
Drake tickets at SeatGeek
Drake tickets at StubHub
Drake tickets at Ticket Club | Free membership use code TICKETNEWS
Drake tickets at Vivid Seats
DRAKE TOUR DATES 2023
July 31 – Philadelphia, PA | Wells Fargo Center
August 1 – Philadelphia, PA | Wells Fargo Center
August 3 – Milwaukee, WI | Fiserv Forum
August 12 – Inglewood, CA | Kia Forum
August 13 – Inglewood, CA | Kia Forum
August 15 – Inglewood, CA | Kia Forum
August 16 – Inglewood, CA | Kia Forum
August 18 – San Francisco, CA | Chase Center
August 19 – San Francisco, CA | Chase Center
August 21 – Los Angeles, CA | Crypto.com Arena
August 22 – Los Angeles, CA | Crypto.com Arena
August 25 – Seattle, WA | Climate Pledge Arena
August 26 – Seattle, WA | Climate Pledge Arena
August 28 – Vancouver, BC | Rogers Arena *
August 29 – Vancouver, BC | Rogers Arena *
Sept. 1 – Las Vegas, NV | T-Mobile Arena
Sept. 2 – Las Vegas, NV | T-Mobile Arena
Sept. 5 – Glendale, AZ | Desert Diamond Arena
Sept. 6 – Glendale, AZ | Desert Diamond Arena
Sept. 8 – Denver, CO | Ball Arena
Sept. 11 – Austin, TX | Moody Center
Sept. 14 – Dallas, TX | American Airlines Center +
Sept. 15 – Dallas, TX | American Airlines Center +
Sept. 17 – Houston, TX | Toyota Center +
Sept. 18 – Houston, TX | Toyota Center +
Sept. 20 – New Orleans, LA | Smoothie King Center +
Sept. 22 – Charlotte, NC | Spectrum Center
Sept. 25 – Atlanta, GA | State Farm Arena +
Sept. 26 – Atlanta, GA | State Farm Arena +
Sept. 28 – Miami, FL | Kaseya Center +
Sept. 29 – Miami, FL | Kaseya Center +
Oct. 1 – Nashville, TN | Bridgestone Arena
Oct. 2 – Nashville, TN | Bridgestone Arena +
Oct. 5 – Toronto, ON | Scotiabank Arena *
Oct. 7 – Toronto, ON | Scotiabank Arena *
Last Updated on July 31, 2023