Bruce Springsteen performs in Seattle in early 2023. Dharmabumstead, CC BY-SA 4.0, via Wikimedia Commons
After a Tulsa concert on the first North American leg of Bruce Springsteen's 2023 tour with the E Street Band made headlines for rock-bottom prices on some resale marketplaces while Ticketmaster price floors kept things inflated at the "official" box office, it looks like the same situation is brewing for an upcoming gig at Gillette Stadium.
For the August 24 concert at the home of the New England Patriots, there are huge numbers of resale tickets available on Ticketmaster for exactly $69.81, but none lower. On other resale marketplaces, ones not subject to the promoter's "floor" pricing policy, tickets are available for as low as $37 including fees at MEGASeats, slightly less for members at Ticket Club ($36), or slightly more after fees are added at StubHub ($40).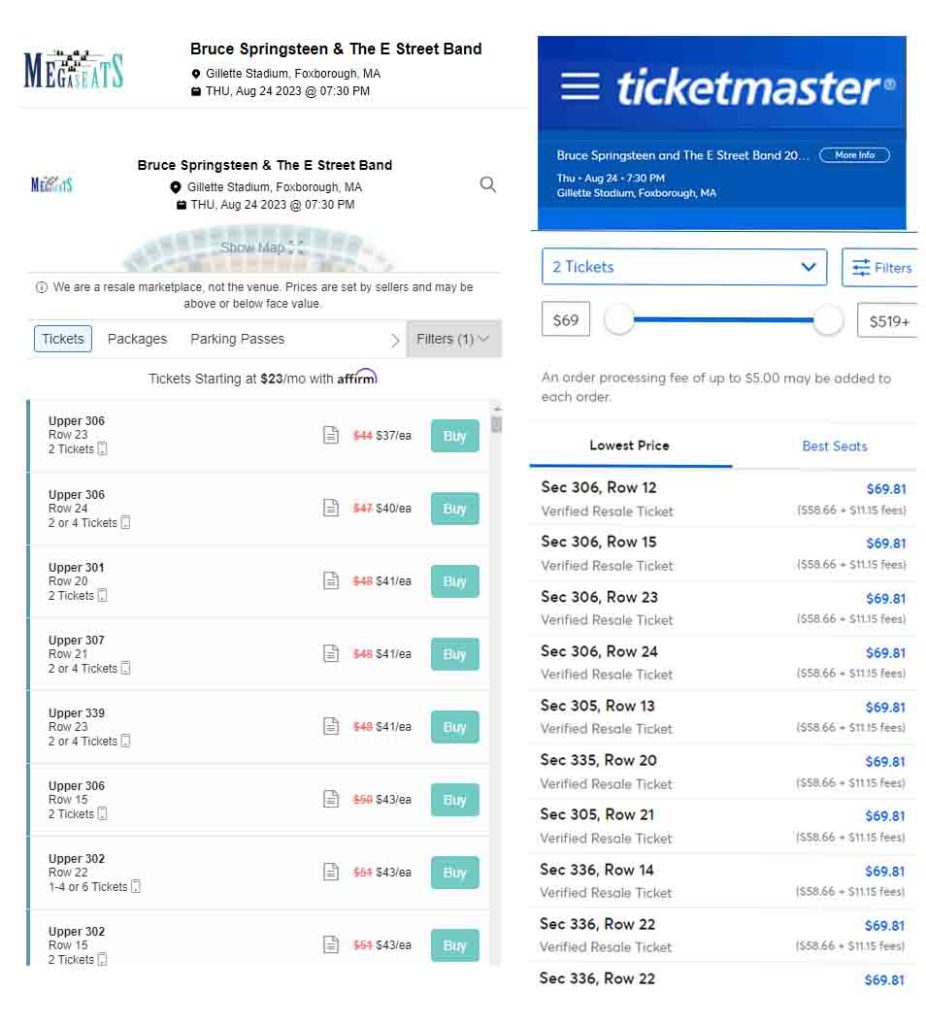 Interestingly, floor pricing is typically in place when promoters and artists don't want tickets being resold to compete with existing primary market inventory (to avoid resale tickets being bought rather than "standard" seats). But there currently only appear to be a handful of "standard admission" tickets available through Ticketmaster. That likely means that in reality, there are still large numbers of seats that have been held back from sale that aren't being displayed at this time, which the floor pricing is hoping to keep the market artificially high once they are released. Still, even there we can find discounts on resale vs. box office. Tickets in the 19th row of Section A1 on the floor are currently $374.71 through Ticketmaster, while the same section and row has tickets for $279 at MEGASeats.
There appear to be a far larger number of "standard admission" tickets currently available through Ticketmaster for the Saturday show that same weekend at Gillette, which are priced at $61.11 after fees at Ticketmaster. The "get-in" on resale marketplaces is slightly below that point – $57 at MEGASeats, reflecting the expectation that the market for a Saturday show will be stronger than a mid-week event. That said, there are exactly zero resale seats listed for the same or less money than the remaining primary inventory for that event, reflecting the likelihood that floor pricing is also in play already for that event.
"Resale price floors harm consumers twice-over," John Breyault of the National Consumers League told TicketNews during the reporting of that Tulsa show and its price floor reveal. "First, they keep discounted tickets from being available to fans who would otherwise be unable to attend a show. Second, they harm sellers who simply want to recoup at least a portion of their ticket investment when they are unable to attend an event. Fans should not be the ones to pay the price when Live Nation and its clients fail to anticipate lower-than-expected demand for an event."
Given that Springsteen and his E Street band are still a long ways off from performing at Gillette Stadium – they are still finishing out shows in Europe, and have more than a month to go before that particular concert in Massachusetts – there seems to be a very real possibility that things may bottom out for that show just like they did in Oklahoma, where tickets were available the week of the event on unaffiliated ticket resale marketplaces for less than $10.
A quick look at other shows on the Bruce Springsteen summer and early fall runs doesn't paint quite so dire a picture as it does in Foxborough, which has the added difficulty of being fairly remote of a stadium relative to both Boston and Providence. But prices certainly are lower than one might have expected, given the huge controversy that the ticket pricing scheme – surged dramatically by "dynamic pricing" during the initial sales period – drew when they initially went on sale.
Tickets to Wrigley Field for the August 9 and 11 opening shows on the upcoming leg are listed as "sold out" on the official box office, with resale tickets currently seeing a 'get-in" value of just over $100. Tickets are slightly less than $100 get-in at MEGASeats for the first of two shows at Philadelphia's Citizen's Bank Ballpark, which has box office tickets remaining for sale for no less than $127 per seat.
Even an August 30 show at Metlife Stadium in New Jersey has tickets available for less than the primary box office on resale sites – two or four tickets in Section 317, Row 24 would cost $150 each on MEGASeats while the minimum price for a resale seat at the box office is $178.35 (and almost certainly the identical set of four resale tickets in 317/24 are $188.19 after fees there).
Is it an indictment of Bruce Springsteen or his band that tickets are available for face value or less on ticket resale marketplaces and likely to continue dropping as the show date approaches? Absolutely not.
But it is enormously hypocritical, given how much event operators – EG the people who decide to institute price floors in concert with the artist – go out of their way to blame ticket resale for inflated ticket prices. Just this week, an organization representing artist managers put out a report claiming that ticket resale dramatically inflated ticket prices, but declined to share the specifics of the data for independent review. Simultaneously, a survey of all professional sports tickets resold over a five year period showed fans saving an average of more than $25 million per year vs. face value between 2017-2022.
As TicketNews said in the Tulsa report, the use of dynamic ticket pricing to surge consumer costs at the initial moments of high demand (coupled with hiding the true supply through holdbacks) followed by the use of floor pricing to artificially keep prices inflated vs. what the market is interested in spending on them is the most egregious type of consumer abuse that exists in live entertainment today.
For now, it serves as an increasingly potent reminder of the fact that the reason companies like Live Nation Entertainment and other event operators want ticket resale to be outlawed are not because they are looking to get tickets to consumers at a more affordable price. It is because they don't like it when their shell game gets exposed.
The full remaining schedule for Bruce Springsteen tour dates is available below, as are links to ticket resale marketplaces – be sure to display prices including fees when possible to comparison shop.
Ticket Links
Bruce Springsteen tickets at MEGAseats| 10% off use code TICKETNEWS
Bruce Springsteen tickets at ScoreBig
Bruce Springsteen tickets at SeatGeek
Bruce Springsteen tickets at StubHub
Bruce Springsteen tickets at Ticket Club | Free membership using code TICKETNEWS
Bruce Springsteen tickets at Ticketmaster UK
Bruce Springsteen tickets at Vivid Seats
Bruce Springsteen Tour Dates
July 13, 2023 – Copenhagen, Denmark | Parken
July 15, 2023 – Hamburg, Germany | Volksparkstadion
July 18, 2023 – Vienna, Austria | Ernst Happel Stadion
July 21, 2023 – Hockenheim, Germany | Hockenheimring
July 23, 2023 – Munich, Germany | Olympiastadion
July 25, 2023 – Monza, Italy | Prato della Gerascia, Autodromo di Monza
North America – Leg 2
August 9 – Chicago, IL |  Wrigley Field
August 11 – Chicago, IL |  Wrigley Field
August 16 – Philadelphia, PA | Citizens Bank Park
August 18 – Philadelphia, PA | Citizens Bank Park
August 24 – Foxborough, MA | Gillette Stadium
August 26 – Foxborough, MA | Gillette Stadium
August 30 – East Rutherford, NJ | MetLife Stadium
September 1 – East Rutherford, NJ | MetLife Stadium
September 3 – East Rutherford, NJ | MetLife Stadium
September 7 – Syracuse, NY | JMA Wireless Dome
September 9 – Baltimore, MD | Oriole Park at Camden Yards
September 12 – Pittsburgh, PA | PPG Paints Arena
September 14 – Pittsburgh, PA | PPG Paints Arena
September 16 – Uncasville, CT  | Mohegan Sun Arena
September 19 – Albany, NY | MVP Arena
September 21 – Columbus, OH | Nationwide Arena
September 29 – Washington, DC | Nationals Park
November 3 – Vancouver, BC | Rogers Arena
November 6 – Edmonton, AB | Rogers Place
November 8 – Calgary, AB | Scotiabank Saddledome
November 10 – Winnipeg, MB | Canada Life Centre
November 14 – Toronto, ON | Scotiabank Arena
November 16 – Toronto, ON | Scotiabank Arena
November 18 – Ottawa, ON | Canadian Tire Centre
November 20 – Montreal, QC | Centre Bell
November 30 – Phoenix, AZ | Footprint Center
December 2 – San Diego, CA | Pechanga Arena
December 4 – Inglewood, CA | Kia Forum
December 6 – Inglewood, CA | Kia Forum
December 10 – San Francisco, CA | Chase Center
December 12 – San Francisco, CA | Chase Center
Last Updated on July 13, 2023