Concert crowd | Photo by Moses via Wikimedia Commons
At least seven million tickets have been bought by fans at below face value prices on ticket resale marketplaces in the span of just one year, according to data released by the Coalition for Ticket Fairness. The data, intended to highlight the benefits that consumers get from a competitive ticket resale space, covered events across all 50 states in the U.S, and likely underestimates the actual number of tickets sold at below face value, given that it is just a sample size rather than a true full-market evaluation.
That so many millions of tickets were found by consumers through ticket resale marketplaces at below the prices that teams and event promoters set is all due to the freedom of consumers to use or transfer ticket they've purchased, according to Jason Berger of the CTF.
"Ticket transferability provides the flexibility that fans deserve," says Berger, whose organization lobbies on behalf of consumer choice in ticketing, pushing back against increased efforts by event operators and ticketing platforms to strip consumer transfer rights over tickets they've purchased. "Controlling a fan right or ability to transfer creates a closed system where service fees and exclusive contracts can impede a fan's ability to shop for the best price. The data speaks for itself –Fans ability to transfer leads to more competition and it saves fans money."
According to the CTF data, which was sourced through ticket resale automation platform Automatiq, more than 2.7 million concert tickets sold at below face value, with 3.96 million sports tickets coming at below face. Tickets to theatrical and other similar events accounted for more than 264,000 tickets sold for less than the initial price paid. This data covered tickets sold through that platform during a one year period from August 1, 2022 through July 31, 2023.
Given that Automatiq covers a notable but not remotely comprehensive segment of the entire ticket resale market, the true numbers of tickets sold at below face value prices across all platforms in the U.S. is likely far higher.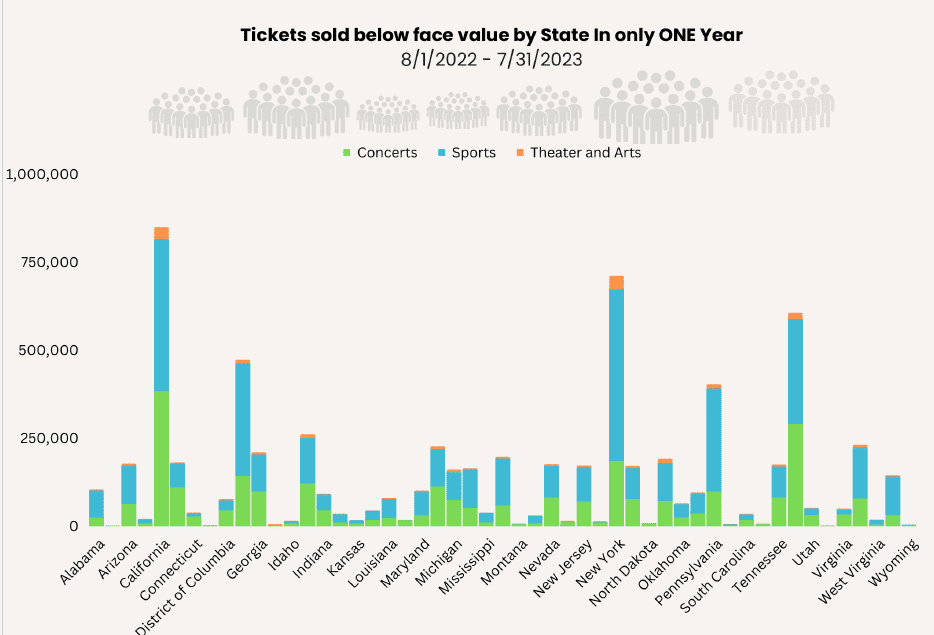 While event operators and promoters regularly blame ticket resale (and "scalpers" speculating on tickets to high-demand events to make a profit) for the ever-increasing prices consumers are being forced to pay for tickets, the reality is far less black and white. Consumers regularly save significant money by purchasing tickets through resale marketplaces, particularly as companies like Live Nation Entertainment have used price-surging "dynamic" and "platinum" ticket offerings to supercharge the prices consumers are being asked to pay when tickets are in high demand, such as during the presale and initial onsale period.
Resale, organizations such as CTF argue, provides a critical aspect of competition in pricing that is almost entirely eliminated from the modern ticketing system at the primary sale level. A particularly notable example of this is the use of "price floor" tactics on resale marketplaces controlled by the primary vendor and event promoter. In many situations, the primary box office will not allow tickets listed for resale through the same system (whether it is Ticketmaster or another primary box office vendor) to be priced below a certain point. This is designed to make it harder for consumers to resell tickets when there are held-back or other tickets remaining through the box office. A Bruce Springsteen show in Tulsa earlier this year saw tickets available for less than $10 on unaffiliated ticket resale marketplaces – which can only exist when consumer transfer rights are protected – while fans shopping for tickets through the venue box office platform saw prices 10x higher, because they weren't allowed to be resold below a certain price point by the promoter and artist.
"Ticket transferability is a vital consumer protection, which industry insiders from big ticketing companies are lobbying hard to strip away," Berger says. "Allowing fans to sell or transfer their tickets is essential and that is why we're fighting for it to continue and be expanded."

For obvious reasons, high population states saw the highest numbers of tickets sold at below face value, per the data provided. California was the highest total of below face value tickets sold by far, more than 130,000 more than No. 2 New York. The Empire State, home to Broadway and the thriving live events business of the city that never sleeps, saw more than 700,000 tickets sold at below face value – more than 100,000 more tickets than Texas and 240,000 more than Florida, despite those states both having significantly higher populations than New York. This is almost certainly attributable to the fact that New York is one of several states where the legislatures have written consumer ticket transfer protection into law.
Colorado, another transfer-protected state, also punched above its weight in terms of tickets sold below face value, with the 12th-highest total of discounted tickets sold, despite the state being the 21st ranked by population size.
CTF has been pushing steadily for consumer-centric ticket reform for close to a decade, beginning with the efforts to codify ticket transfer rights into law in New York. The group is now pushing for these protections to be added at both states across the U.S. and at the federal level.
Multiple ticket reform bills are under consideration as fans have continued to show their utter disdain for the current state of affairs in the industry, brought to a head by the disaster of Ticketmaster's Taylor Swift Eras Tour sales process last fall. Earlier in the summer, the Senate moved the so-called TICKET Act, which will mandate "all-in" pricing out of committee. There are others that include the BOSS and SWIFT Act in the house, the Unlock Ticketing Market Act in the Senate, and a rumored bill from Sens. Amy Klobuchar and John Cornyn that consumer advocates are already concerned closely mirrors industry-backed proposals from Live Nation Entertainment and the FIX the TIX campaign, both of which are designed to strip consumer ticket rights entirely.
Last Updated on September 14, 2023