The New York Knicks were formed in 1946, and are currently one of thirty teams that comprise the National Basketball Association. The Knickerbockers, as they were originally known before shortening it to "Knicks", plays in the Atlantic Division of the Eastern Conference, along with the Boston Celtics, New Jersey Nets, Philadelphia 76ers and Toronto Raptors. Each of their home games are played at the "World's Most Famous Arena", Madison Square Garden in New York City, which opened in 1968.
Even with the recent struggles of the Knicks on the court, tickets in New York to see the team at MSG have consistently been one of the top sellers in the NBA. Going to a Knicks game has become a stop on tourist's trips to the Big Apple, and it has added to the franchise stature around the world. It's that popularity that has made the Knicks the most valuable basketball team in the United State at more than $600 million, according to Forbes Magazine.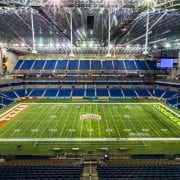 Yesterday's Mexico vs. Argentina friendly took the top-selling spot for the third day in a row, according to Ticket Club sales data. Argentina was ultimately victorious in the match, shutting out Mexico for a 4-0 win. Three of those goals were scored by striker Lautaro Martinez. Another friendly between...
Read more