The Vans Warped Tour is a touring music and extreme sports festival, held in venues such as fields or parking lots. Vans has sponsored the tour every year since 1995 and started out as a showcase for punk rock music, but currently has a more diverse line-up. The tour has featured music from skate punk, third wave ska, post-hardcore, pop punk, metalcore and also hardcore and street punk.
Not only does this tour have music, but it also has many attractions such as a half pipe for skaters and bikers. They have tents to sell band merchandise, magazine publishers, independent record labels, non-profit organizations and sponsors. Some bands will go back to the tents to greet fans and sign autographs.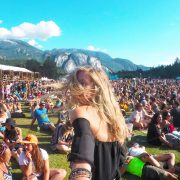 California's Coachella and Stagecoach kicked-off the 2019 festival season earlier this year, and now even more are underway as summer approaches. While there are hundreds of scheduled festivals throughout the season, a handful will have music junkies talking all-year long, with stacked lineups filled with A-list stars dominating the...
Read more