Tyler Childers is the latest to join a number of artists attempting to limit ticket resale with non-transferable tickets.
The country singer announced that tickets to his Rupp Arena shows in Lexington, Kentucky — set to take place on December 30 and 31 — will be non-transferrable "in an effort to minimize third-party resale and keep prices fair."
"If for some reason you are not able to attend, the Face Value Ticket Exchange is now open, which allows ticket holders to sell tickets to fans at face value via their Ticketmaster account," Childers said in a statement posted to X.
While many fans took to the social media site to praise the singer, others questioned this decision, wondering if their tickets already previously purchased from secondary sites were still valid.
Additionally, others highlighted the fact that Childers' "face value" ticket prices on Ticketmaster have only increased since the initial presale due to the ticketing giant's dynamic pricing. One fan noted that while tickets were originally up-for-grabs for $89, they're now available for nearly $300.
When purchasing tickets to Childers' shows on Ticketmaster, eventgoers are met with a message, noting that the artist has "requested tickets to this event be mobile only and restricted from transfer."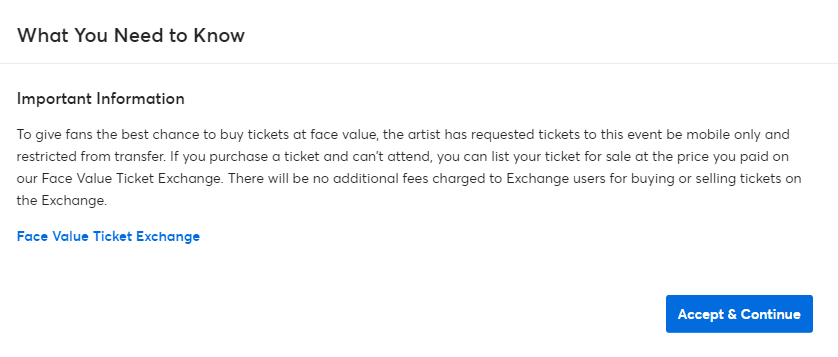 Currently, only one "Face Value Exchange Ticket" is listed on Ticketmaster for Childers' December 30 show for $386 before fees, and two tickets are available for the New Year's Eve shows for $238 and $470 before fees.
Despite his efforts, tickets for both gigs on resale sites like MegaSeats and SeatGeek are still listed as available.
While some artists are game for Ticketmaster's Face Value Ticket Exchange, like Childers, Foo Fighters, and Garth Brooks, others in the industry are calling-out the platform. The Cure's frontman Robert Smith questioned the ticketing company's exchange earlier this year, asking about the "weird over priced 'face-value' tickets that are popping-up here and there."
Nonetheless, it doesn't seem like Live Nation/Ticketmaster's monopoly is slowing down anytime soon, and fans hoping for a significant change to the ticketing experience shouldn't hold their breath.
Last Updated on August 28, 2023