Shinedown is an American hard rock band, formed in 2001 by original members Brent Smith, Brad Stewart, Jasin Todd and Barry Kerch. Their debut album, "Leave a Whisper," was released in 2003, attaining platinum status in the U.S. The group also released a DVD of the final performance on the accompanying tour. Shinedown has produced two albums since, "Us and Them" in 2005 and "The Sound of Madness" in 2008, both of which were certified as gold albums. Several singles topped the U.S. charts, including "Save Me," "Devour," "Second Chance" and "Sound of Madness."
Recently, Shinedown has been keeping an intense tour schedule. Their summer 2009 concert series, the much-anticipated joint tour with Staind, was immediately followed by an additional headline tour, which included 31 concerts all across the country starting in September.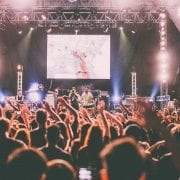 A new concert venue will open in Southern Maine in just a few weeks, and is already set to host a handful of artists this year as a part of the series Waterfront Concerts. The Maine Savings Pavilion at Rock Row will be able to hold a capacity of...
Read more