Zach Bryan's Burn, Burn, Burn tour continues to roll across North America, having performed numerous dates already for the up-and-coming country singer. It also appears that organizers have continued to disregard state law in places where legislatures have enacted consumer ticket transfer requirements that conflict with their restriction to the tour promoter's preferred platform, AXS.
After risking millions of dollars in fines by failing to activate ticket transfer for a concert in Charlottesville, Virginia, Bryan's tour, promoted by AEG and ticketed by its subsidiary, AXS, did the same for a concert in Albany, New York on May 26. Both states ban the practice of using mobile-only ticket systems to eliminate consumer choice on how they will use, transfer, or resell tickets to live events.
Consumers and advocates who worked with legislators to ensure the law was passed to protect these rights have both expressed their anger over the tour and its promoters' choice to disregard the law, and say there are active lines of inquiry open with the state Attorney General's office.
"We are in active discussions with the New York State Attorney General's office about these ongoing issues," says Steve Malito, a lawyer working with the Coalition for Ticket Fairness, an industry group that is active in shaping legislative policy regarding event tickets in New York and across North America.
Reached for comment, a representative of the AG's office declined to speak on the record to TicketNews for this story. Consumers who feel they have been impacted by a violation of state law in New York are encouraged to file a report through the AG's website here.
While Bryan's management, as well as individuals associated with the tour itself from AEG and AXS have not responded to multiple requests for clarification on the tour ticketing policy and why it seems to be avoiding adherence to state laws, AXS has replied to at least one consumer who filed a complaint through the Better Business Bureau regarding the lack of ticket transfer for New York dates.
"We were just made aware of this state law," reads a reply to a consumer complaint shared with TicketNews that the business sent on June 1, attributed to AXS Vice President Chris Conner. "For Zach Bryan events at John Paul Jones Arena, MVP Arena, and Forest Hills Stadium, if you would like to transfer your Zach Bryan tickets, we can change your method of delivery to will call. This will enable you to pick up paper tickets at the venue which are freely transferable."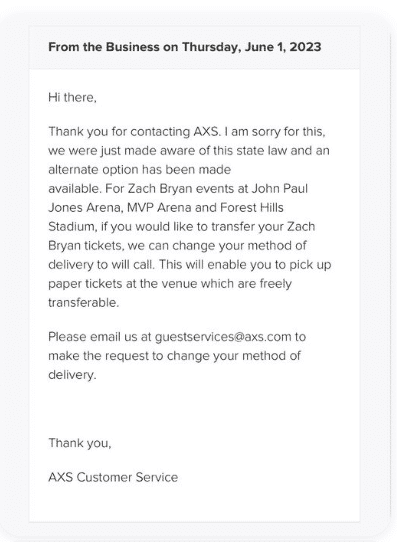 This response was pointed out by the consumer as problematic in several instances – not the least of which being that the events at John Paul Jones arena in Virginia and MVP Arena in New York had already happened. Besides that, the post-sale switch to will call delivery of "paper" tickets does not satisfy the requirements of the state law in either New York or Virginia, even if it had come prior to the event dates. Both require that tickets either must be initially issued in freely-transferable fashion, or cannot be restricted from transfer, specifically outlined in the statute:
(c) employ a paperless ticketing system unless the consumer is given
an option to purchase paperless tickets that the consumer can transfer
at any price, and at any time, and without additional fees, independent
of the operator or operator's agent. Notwithstanding the foregoing, an
operator or operator's agent may employ a paperless ticketing system
that does not allow for independent transferability of paperless tickets
only if the consumer is offered an option at the time of initial sale to
purchase the same tickets in some other form that is transferrable
independent of the operator or operator's agent including, but not
limited to, paper tickets or e-tickets.
Penalties for ignoring the law in Virginia are significant – $1-5,000 per violation, which in a 14,000+ seat arena like John Paul Jones in Charlottesville could add up to millions. In New York, each violation is punishable with a fine of up to $250, which can be tripled if it is found to be a violation by a corporation or business.

"The CTF is aware of… certain primary ticket sellers' lack of compliance with NYS Arts & Cultural Law," reads a statement posted on the group's Facebook page last week. "We want to reassure everyone that the [CTF] is taking appropriate action regarding reported violations of the law. Violations continue to be documented. Most importantly, we are in contact with the Attorney General's office about these issues and we are asking for relief."
Announced in the wake of the release of a live album titled "All my Homies Hate Ticketmaster," Zach Bryan's tour has been deeply "anti-Ticketmaster" in its public stances. This has involved locking tickets to promoter AEG's mobile-only AXS ticketing systems and eliminating ticket transfer as an option, with those who can't use their tickets required to "resell" them through the AXS system at face value.
This was all framed as an effort to get tickets to consumers at a reasonable price. But close examination of the Albany show as it approached on May 26 showed that Bryan's team was employing many of the same deceptive and price-inflationary tactics that have led to so many complaints from consumers about Ticketmaster in the first place.
For example: Bryan's tour was allegedly sold out almost immediately – a fact that his team touted in the immediate aftermath of it going on sale earlier this year. But this was utter fiction. Large portions of the building appear to have been held back for the Albany show, which were then dripped slowly back on to the market as the date approached, all at the higher limits of the price range that Bryan promised his fans he would be selling tickets at.
On the day of the show, a large number of tickets – all in the desirable first few rows of the upper sections of the arena – were simultaneously released on both the box office and "resale" side of the AXS marketplaces.
Looks like a whole lot of held-back @zachlanebryan tickets from tonight's long "sold out" show in Albany just got released. pic.twitter.com/5tbtvP4aPF

— TicketNews (@TicketNews) May 26, 2023
Looks like the @zachlanebryan holdback release for tonight's show in Albany is starting to get some lower level and floor GA seats into the mix. pic.twitter.com/ICKpTyFHtT

— TicketNews (@TicketNews) May 26, 2023
We have once again contacted representatives for Bryan's team at Warner Records, as well as AEG and AXS requesting comment on the tour and its policies. We will update this story with any response received.
Bryan's tour next plays four shows in five nights at venues in states where ticket resale and transfer are protected by law – two at Forest Hills Stadium in New York followed by two at Red Rocks in Colorado. Curiously, tickets are Red Rocks do not appear to have even been distributed yet, with indication that registration for the "fair AXS" system has closed, but orders have not yet been confirmed. Potentially, this could be related to the fact that AEG's parent company, The Anchutz Corporation, is located in Colorado, making the company less inclined to play games with state laws on its home turf the way it seems to be comfortable doing in New York and Virginia.
Ticket Links
Zach Bryan tickets at MEGASeats | – 10% Off Using Code TICKETNEWS
Zach Bryan tickets at ScoreBig
Zach Bryan tickets at SeatGeek
Zach Bryan tickets at StubHub
Zach Bryan tickets at Ticket Club | Free Membership Offer
Zach Bryan tickets at Vivid Seats
Zach Bryan Tour Dates
* Festival Date
June 23 – New York, NY | Forest Hills Stadium
June 24 – New York, NY | Forest Hills Stadium
June 26 – Denver, CO | Red Rocks Amphitheatre
June 27 – Denver, CO | Red Rocks Amphitheatre
*July 07 – Milwaukee, WI | Summerfest
*July 13 – Chicago, IL | Windy City Smokeout
*July 14-16 – Whitefish, MT | Under The Big Sky Festival
*July 20-July 22 – Cullman, AL | Rock The South
*July 23 – Cheyenne, WY | Cheyenne Frontier Days
*Aug 05 – St. Charles, IA | Hinterland Music Festival
Aug 07 – Grand Rapids, MI | Van Andel Arena
Aug 09 – Minneapolis, MN | Target Center
Aug 11 – Tulsa, OK | BOK Center
Aug 12 – Tulsa, OK | BOK Center
Aug 14 – Sioux Falls, SD | Denny Sanford PREMIER Center
Aug 17 – Nampa, ID | Ford Idaho Center
Aug 19 – Las Vegas, NV | T-Mobile Arena
Aug 20 – Bakersfield, CA | Mechanics Bank Arena
Aug 21 – Oakland, CA | Oakland Arena
Aug 23 – Los Angeles, CA | Crypto.com Arena
Aug 25 – Glendale, AZ | Desert Diamond Arena
Aug 27 – Wichita, KS | INTRUST Bank Arena
Aug 29 – Lincoln, NE | Pinnacle Bank Arena
Aug 30 – Kansas City, MO | T-Mobile Center
October 7 – Opelika, AL | Auburn Rodeo
Last Updated on June 8, 2023