Live Nation Entertainment and its ticketing subsidiary Ticketmaster are looking to have lawsuits from consumers angry over the messy Taylor Swift Eras Tour ticket...

Live Nation Entertainment and its ticketing subsidiary Ticketmaster are looking to have lawsuits from consumers angry over the messy Taylor Swift Eras Tour ticket sales process kicked out of court and into private arbitration, according to a court filing Friday reported by Reuters. The entertainment giant, which faces numerous lawsuits from jilted Swifties coming out of the November launch of sales for the singer's upcoming tour dates, argued that all consumers purchasing tickets on their systems "repeatedly agreed" to arbitrate any claims, stripping their right of using the courts to seek remedy.
At least two dozen consumers reportedly filed lawsuits in the wake of the Taylor Swift fiasco, which saw website crashes and massive delays, followed by the company simply calling off the general public sale for tickets to the stadium tour entirely. The lawsuits allege that the companies engaged in fraud, price fixing, antitrust violations, and "intentional deception" during the ticket sales process, causing the plaintiffs harm.
"Ticketmaster is a monopoly that is only interested in taking every dollar it can from a captive public," reads the lawsuit, in part. It alleges that the 2010 merger of the companies eliminated market competition and caused consumers to face higher prices than they otherwise would have been charged in a ticket ecosystem with meaningful competition.

In its Friday filing, the California-based company argued that those suing it already forfeited their right to sue the company in court, having agreed to private and binding arbitration when they got to the Ticketmaster website and agreed to the terms and conditions required to access any sale. Those same terms and conditions were cited in a recent appeals court decision to remove a different antitrust lawsuit to arbitration – a decision that Live Nation cited in Friday's filing.
Attorneys for Live Nation called the 9th Circuit decision on Feb. 13 "binding authority" that "can and should end" the Los Angeles court's inquiry.
The fallout from the Taylor Swift debacle has dragged on for Live Nation and Ticketmaster, which have faced massive public scrutiny of their business practices and the competitive landscape in ticketing. Beyond the legal efforts of fans trying to use class action lawsuits to get back at the companies, there has been a major push by legislators to address the troubling problems consumers face while purchasing tickets, which most argue is due to the massive competitive leverage that the ticketing and promotional giant holds.
Following a Senate Judiciary Committee hearing in January, Senators Amy Klobuchar (D-MN) and Mike Lee (R-UT) rejected Live Nation's non-answers to many questions posted during and after that hearing, calling on the Department of Justice to continue its open investigation into whether or not the company is violating antitrust laws with its market behavior. Live Nation has proposed a new regulatory climate for ticketing that would give it even more power over competitors, while consumer advocates have offered a "Bill of Rights" for lawmakers to consider passing.
Meanwhile, those seeking Taylor Swift tickets for the upcoming tour dates continue to get new notifications regarding blocks of tickets being released for sale as event dates approach. This likely indicates that assumptions that massive numbers of tickets were never even put on sale to the public for the Taylor Swift concerts are accurate, and many more await release prior to the event dates.
While the court considers Live Nation's efforts to remove the lawsuit to binding arbitration, Swift's tour is in final preparations for its launch later this month, with two shows in Arizona getting underway on March 17 and 18. The full tour schedule and links to ticket marketplaces for purchase are available below:
Taylor Swift Ticket Links
Taylor Swift tickets at MEGASeats.com | 10% Off Using Code TICKETNEWS
Taylor Swift tickets at Scorebig
Taylor Swift tickets at SeatGeek
Taylor Swift tickets at StubHub
Taylor Swift tickets at Ticket Club | Free Membership Offer use code TICKETNEWS
Taylor Swift tickets at Vivid Seats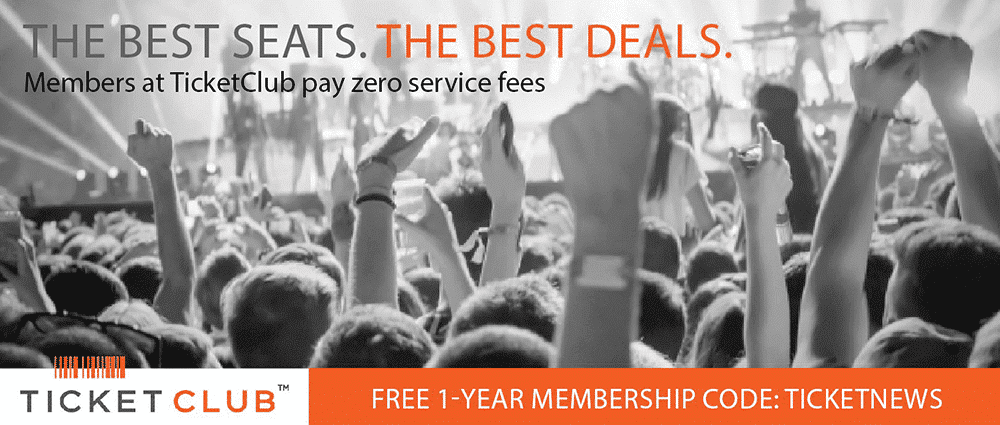 Taylor Swift The Eras Tour Dates
Friday, March 17 – Glendale, AZ | State Farm Stadium !&
Saturday, March 18 – Glendale, AZ | State Farm Stadium !&
Friday, March 24 – Las Vegas, NV | Allegiant Stadium %&
Saturday, March 25 – Las Vegas, NV | Allegiant Stadium %&
Friday, March 31 – Arlington, TX | AT&T Stadium %+
Saturday, April 1 – Arlington, TX | AT&T Stadium %+
Sunday, April 2 – Arlington, TX | AT&T Stadium %+
Thursday, April 13 – Tampa, FL | Raymond James Stadium %+
Friday, April 14 – Tampa, FL | Raymond James Stadium %+
Saturday, April 15 – Tampa, FL | Raymond James Stadium %+
Friday, April 21 – Houston, TX | NRG Stadium %+
Saturday, April 22 – Houston, TX | NRG Stadium %+
Sunday, April 23 – Houston, TX | NRG Stadium %+
Friday, April 28 – Atlanta, GA | Mercedes-Benz Stadium %+
Saturday, April 29 – Atlanta, GA | Mercedes-Benz Stadium %+
Sunday, April 30 – Atlanta, GA | Mercedes-Benz Stadium %+
Friday, May 5 – Nashville, TN | Nissan Stadium $&
Saturday, May 6 – Nashville, TN | Nissan Stadium $&
Sunday, May 7 – Nashville, TN | Nissan Stadium $&
Friday, May 12 – Philadelphia, PA | Lincoln Financial Field $&
Saturday, May 13 – Philadelphia, PA | Lincoln Financial Field $&
Sunday, May 14 – Philadelphia, PA | Lincoln Financial Field $&
Friday, May 19 – Foxborough, MA | Gillette Stadium $&
Saturday, May 20 – Foxborough, MA | Gillette Stadium $&
Sunday, May 21 – Foxborough, MA | Gillette Stadium $&
Friday, May 26 – E. Rutherford, NJ | MetLife Stadium $&
Saturday, May 27 – E. Rutherford, NJ | MetLife Stadium $+
Sunday, May 28 – E. Rutherford, NJ | MetLife Stadium $+
Friday, June 2 – Chicago, IL | Soldier Field #?
Saturday, June 3 – Chicago, IL | Soldier Field #?
Sunday, June 4 – Chicago, IL | Soldier Field #?
Friday, June 9 – Detroit, MI | Ford Field #?
Saturday, June 10 – Detroit, MI | Ford Field #?
Friday, June 16 – Pittsburgh, PA | Acrisure Stadium #?
Saturday, June 17 – Pittsburgh, PA | Acrisure Stadium #?
Friday, June 23 – Minneapolis, MN | U.S. Bank Stadium #?
Saturday, June 24 – Minneapolis, MN | U.S. Bank Stadium #?
Friday, June 30 – Cincinnati, OH | Paycor Stadium ^+
Saturday, July 1 – Cincinnati, OH | Paycor Stadium ^+
Friday, July 7 – Kansas City, MO | Arrowhead Stadium ^+
Saturday, July 8 – Kansas City, MO | Arrowhead Stadium ^+
Friday, July 14 – Denver, CO | Empower Field at Mile High ^+
Saturday, July 15 – Denver, CO | Empower Field at Mile High ^+
Saturday, July 22 – Seattle, WA | Lumen Field *+
Sunday, July 23 – Seattle, WA | Lumen Field *+
Friday, July 28 – Santa Clara, CA | Levi's Stadium *+
Saturday, July 29 – Santa Clara, CA | Levi's Stadium *+
Thursday, August 3 – Inglewood, CA | SoFi Stadium *?
Friday, August 04 – Inglewood, CA | SoFi Stadium *?
Saturday, August 5 – Inglewood, CA | SoFi Stadium *&
Tuesday, August 8 – Inglewood, CA | SoFi Stadium *&
Wednesday, August 9 – Inglewood, CA | SoFi Stadium *&
Last Updated on March 1, 2023 by Dave Clark