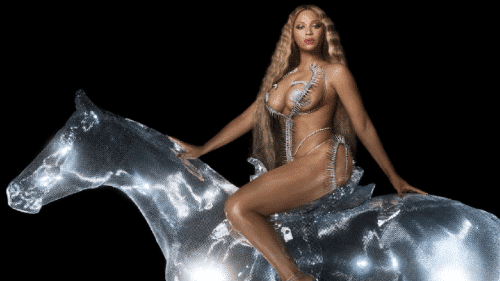 Fans attending a Harry Styles concert in Edinburgh, Scotland are being warned to come prepared for a throwback ticketing experience: Print tickets at home before you arrive, or you won't get in. The warning comes after a Beyonce show at the venue saw "chaos" caused by mobile-only ticketing failures on the Ticketmaster system.
"You MUST print your ticket before coming to the venue otherwise you will not gain entry," read the email sent to those planning on attending the Harry Styles concert at Edinburgh's Murrayfield this weekend. The singer is performing two shows at the famed rugby stadium, Friday May 26 and Saturday, May 27. The rare instruction comes after the Ticketmaster system failed at Beyonce's show on May 20.
Attendees told reporters that the mobile-only ticketing system was crashing – users were either unable to get an internet signal that would allow them to access their tickets, or the Ticketmaster app was failing during the process of pulling up the tickets, setting them back as thousands attempted to get in to the sold out performance.
"It was chaos – folk were unable to get tickets up. They would not accept screen shots either," one fan told Edinburgh News. "It took us an hour to get a signal and only because we went to a pub quite a bit away with free Wi-Fi, so stood outside and the app finally worked but loads of folk had same issues and loads of people arrived late to the concert as a result."
"I bet lots of folk that had some alcohol on board really struggled. Altogether it took us an hour from getting off the tram to getting into the concert which is ridiculous."
Ticketmaster responded to the complaints by saying there had been "no issues with its app" and fans had been instructed to access their tickets before they arrived at the venue, in order to avoid overloading the internet at the stadium as more than 50,000 people tried to access tickets on their mobile devices. It also said that the box office had assisted any impacted consumers by printing their tickets.
Visiting the ticketing page for the Harry Styles concerts this weekend, it appears that print-at-home is the only method of ticket delivery available for those purchasing tickets now, as the shows approach.
Of course, the incidence of mobile-only ticketing and fans being stuck outside of stadiums is not a new one. An app crash locked fans out at the FIFA World Cup in Qatar recently, with "chaos" reported when mobile ticketing stranded thousands outside of a Dua Lipa show in Australia. College sports saw a major outage when Paciolan went down on a football gameday in the fall, while The Weeknd saw his tour opener postponed by a massive internet outage in Canada. And those examples are just in the past year.
Styles continues to bring Love On Tour to the UK and Europe, with shows planned through mid-July on the lengthy run of shows that saw him perform in North America for much of 2022.
Beyonce's tour continues with its EU run this weekend, with the singer performing at Stade de France in Saint-Denis Friday as Styles takes the stage in Scotland. Her Rennaisance World Tour remains on that side of the Atlantic until late June, heading to North America beginning with a July show in Toronto.
Last Updated on May 24, 2023 by Dave Clark
Previous
UK Fans Urged to Print Styles Tickets After Beyonce Ticket Issues