Over the past decade, the National Football League has grown into the largest sports league in North America and has continued to grow into countries around the world. The NFL was formed in 1922, and was originally known as the American Professional Football Association and was comprised of 11 teams. Now, the league is made up of 32 franchises and draws millions of fans to its stadium every year. Its championship game, the Super Bowl, is the most watched sporting event in the world with tickets often the most expensive of any sports event as well.
Collectively the NFL is worth nearly $34 billion, according to Forbes, and many of the teams are worth in excess of $1 billion themselves. Due to its popularity, many teams have waiting lists in the thousands and have begun to capitalize further on it by charging for Personal Seat Licenses, or the right to purchase season tickets. PSL's are used in other sports, but are especially prevalent in the NFL. They have been in the news more lately, when the Dallas Cowboys announced they would be charging $100,000 for some of their PSLs.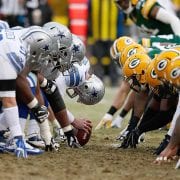 As the kickoff for the National Football League looms, the league and its fans prepare for what is currently planned to be the final year of any sort of non-digital ticketing, according to the latest edition of Sports Business Journal. 2018 will be a transition year, with about half...
Read more