With a career spanning four decades, Sir Elton John has been named by critics as one of the top performers of our time. He has become internationally recognized for his rich voice and mastery of the piano, making his concerts top-selling events around the globe.
John's performance styles and settings are widely varied, giving his fans many concert experience options. Though he best known for his solo performances, he occasionally tours with a full backing band. The Englishman has even staged a lengthy and successful residency, a show called The Red Piano, at The Colosseum at Caesars Palace in Las Vegas.
John has a strong partnership with fellow rock pianist Billy Joel. The two have staged several co-headlining tours under the "Face 2 Face" moniker — 1994-95 and 2001-03, as well as a projected 2009-10 venture. The productions feature solo sets from both performers, as well as collaborative sets that position John and Joel at facing pianos, singing and playing together.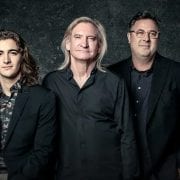 The Eagles' Hotel California tour took the best-selling event spot for the second day in a row, according to Ticket Club sales data. The band's Atlanta show took the No. 1 spot, while shows in Dallas, San Francisco and Houston also landed on the Top 20. Taylor Swift's Lover...
Read more